Killing Floor 2's Gary "Badass Santa" Busey is bad for your elf
Christmas is always a Busey time of year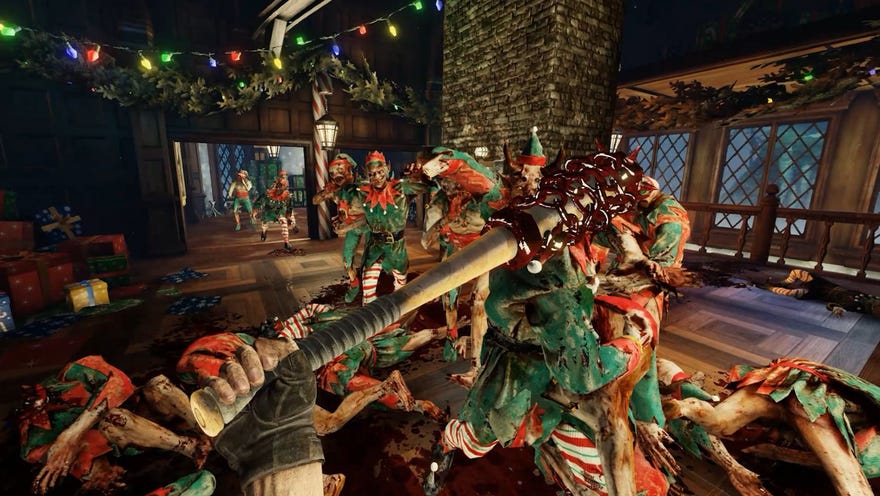 Co-op zombie splatterfest Killing Floor 2 does lovely seasonal events. Sometimes it's a weird steampunk airship adventure, sometimes Santa is battling the Krampus to the death. For this festive Seasons Beatings update - live now - Santa has been ousted from his north pole workshop by his demonic nemesis, and is returning for some cold vengeance. Old Saint Nick is also voiced by Gary Busey for some reason- no, I don't know why, ask Tripwire Interactive. Check out the nonsense, the new story-mission map, the bundle of new weaponry and the man himself in the video below.
While Gary Busey's Santa is a playable character in this new update, he's a paid item. Those in this to listen to his, err, dulcet tones won't be disappointed, as he's also playing the role of the trader in-between rounds of elf-slaughter. All the monsters are, of course, festively themed for the event - gingerbread men, nutcrackers, toy robots gone evil. I appreciate the studio's commitment, honestly, and it's the kind of silliness that keeps people around. The game has been especially well populated since October, so finding a six-player crew should never take more than a few seconds.
The new map is an objective-based, story-driven thing, more structured than the usual Killing Floor 2 horde mode, and a second, community-made holiday mall map is included too. There's a bunch of new weapons, including a Thompson SMG, M32 rotary grenade launcher (returning from Killing Floor 1), and a pair of axes. Players who also own fun Road Rash-alike Road Redemption will also get the spiked baseball bat pictured up top. There's a bunch of new cosmetic goodies to be earned or bought during the event too, because holiday excess should be a year-round thing.
New content aside, Tripwire may not have dropped loot crates from Killing Floor 2's drip-feed of cosmetic goodies, but they have made one major positive change to it in recent updates: Crates won't contain duplicate items anymore. Not ideal, but it does at least get you closer to the items you want with each roll of the dice.
The Seasons Beatings event is live now in Killing Floor 2, which is also 67% off on Steam right now, bringing it down to a stocking-stuffing £6.60/€9.24/$9.90.