Kitty Horrorshow's Haunted Cities Volume 3 is here just in time for Halloween
Thrills and chills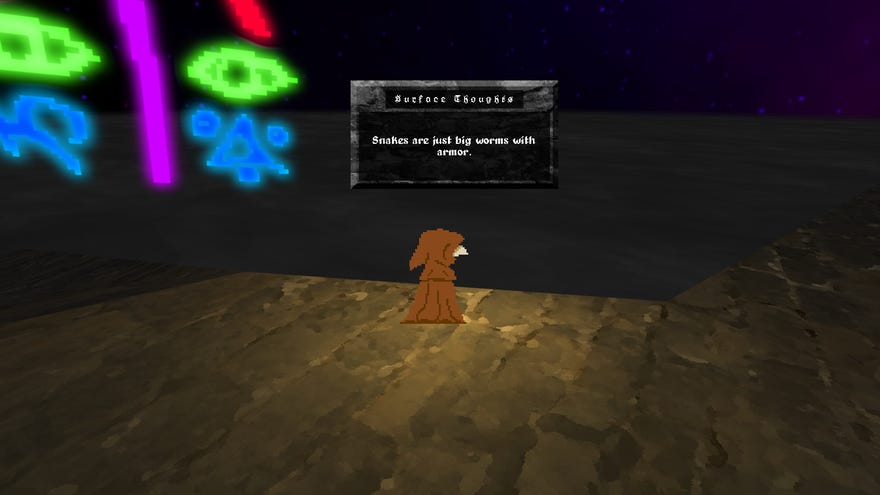 It's just ten short nights until Halloween, and so I bring you the spooky gift of Kitty Horrorshow's latest collection of brief experimental games, bundled together as Haunted Cities Volume 3. It's got it all: candle lighting, spinning out your car at night, and the most terrifying flickering I've ever experienced.
The collection gathers together four games that were previously released only to her Patreon supporters, and makes them available to everybody for free. First up is Castle Wormclot, in which you play as a candlekeeper exploring, lighting candles, and musing on the nature of snakes, as you can see from the header image above.
Then there's Seven Days, which takes place in a city decimated by storms and flooding. You explore a house left untouched, and read about the occupant's musings on their day to day life left behind among a crumbling infrastructure.
Ghost Lake really makes use of Horrorshow's inclination towards low-res worlds. Sickly green factories suddenly looming in front of you and spindly dead trees flickering in the side windows make for an autumn treat. And helpfully, downloading the game also gives you some instructions on where you can drive off the edge of the map "with a bit of wiggling." (Do be sure to dig into the readme for notes like these as well as control schemes and content warnings.)
Finally, there's Basements, which I can't tell you much about because it creeped me out too much. The unholy noise and flickering combination made me convinced there would be jump scares, but I can't confirm that those fears are true or just a product of my overactive imagination. If you're braver than me, though, please enjoy.
Kitty Horrorshow is rather an old hand when it comes to creating all things surreal and creepy. There's strange sepia desert Chyzra, which I loved, and shadowy, glitchy horror game Anatomy, which I confess to not having played because I like sleeping at night. Plus, of course, her earlier volumes in the Haunted Cities series. So if you get through these four and want to dig around for more Halloween delights, there's plenty to take your pick from.
Haunted Cities Volume 3 is available to download for free on itch.io.