Fantasy League Of Legends And The $1m Prize Pool
Fantasy LoLs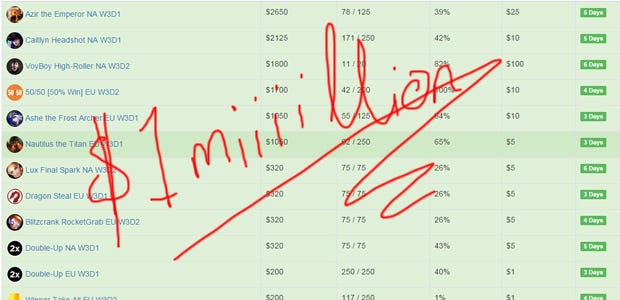 Vulcun [official site] - a fantasy League of Legends venture - has announced it's beefed up its prize pool from $250,000 to $1 million.
Fantasy eSports sites aren't new. Riot has its own fantasy leagues for its MOBA, League of Legends, there was one as part of the International 2013 compendium for Dota 2 and for subsequent events like DreamLeague, Smite has one...
But this one is big and is trumpeting loudly about the available prize fund. I decided to write about it because fantasy leagues in traditional sports are a huge business and Vulcun's growth seems to be a good demonstration (so far - I mean it's really early days for the site) of how that's being taken up in eSports.
By huge business I mean that for traditional sports in 2014 the Fantasy Sports Trade Association estimated the number of fantasy league players in the US at 41.5 million. On average each will spend a little over $100 on their hobby each year (entry fees, challenge games and related material). The FSTA wording is a little clumsy in terms of average time spent - "8.67 hours consuming fantasy per week" - but that basically means nearly 9 hours of someone caring about the minutiae of a particular professional scene.
With a number of eSports adopting traditional league structures for their top tier professionals it's easy to see how fantasy leagues fit into that picture.
Vulcun were a professional team competing in the North American LCS. The owners of that team are the ones behind this site. They're using that same name - Vulcun - and are still focused on Riot's behemoth. There are free and pay-to-enter contests which have you act as a manager. You spend an imaginary budget on players and try to optimise your picks in order to earn points. The exact way this works is laid out in the rules but essentially, if the players do well in their real-life matches, your fantasy team does well.
Vulcun views their prize pool as being necessary for the success of the venture and for attracting players. That might sound idiotically simple, but a number of other eSports fantasy leagues are more about fun and competing against friends.
"Fantasy leagues are boring if there isn't anything on the line. People like playing when dollars are on the line," said co-founder Ali Moiz. "It makes the games much more fun and exciting. Our focus on providing the largest fantasy prize pool in eSports seems to be working well."
The venture initially had a lot of funding from Silicon Valley investors - $1.3 million. But Moiz told me that this prize pool increase from $250,000 to $1 million is "purely from the money people have been paying to play in the leagues". The leagues are three weeks old.
Obviously a big number is all well and good for a headline but prize pools break down into smaller amounts so I asked about the amount of money paid out so far and how many people have actually won something. "We don't have too much data available on winnings," said Moiz, pointing to the infancy of the project. "We've paid out around $35,000 so far to approximately 1,250 winners in two weeks of the LCS. Of that $15,000 was week 1, $20,000 week 2."
I've also been reading through the most recent blog as the team at Vulcun try to work out what's best practice. At the moment the emphasis is on smaller but more numerous prizes. I entered a free-to-play contest and the top 99 players there each earned a dollar. A $25 entry fee contest has an $800 first prize which you're vying for against a maximum of 125 people (four $150 prizes and twenty-five $50 prizes are also available in that one). There are also now rules against picking the entire lineup of a dominant team and just hoping for the best.
I've written about fantasy eSports before and talked about the potential benefits to the games involved - money making its way to those games and to related industries, increased viewership and in-depth engagement with the pro scene - but there are also potential negatives. With money and time being invested traditional sports fans have been known to lose their temper with players who perform badly or get sick or injured.
There are also questions about whether it ruins a more "innocent" experience by gameifying fandom. I've written about the distorting effect money can have on pro-scenes in the form of match-fixing. In 2014 a Korean League of Legends player attempted suicide shortly after exposing a match-fixing scandal he had become embroiled in. I'm not laying any of that at Vulcun's door in any way, but what I am saying is that fantasy eSports feels like a rapid growth area and that will carry real risk as well as reward.
Vulcan is invite only at the moment but you can sign up and request a beta code if you're curious.