How to link your EA App and Epic Games Store accounts and claim a free Sims 4 bundle
Redeem those free Sims 4 packs on EGS, even if you own the game via EA App
Can I get the free Sims 4 bundle from Epic if I own the game via another store? This week's Epic Games free game is a The Sims 4 bundle containing three pieces of DLC. Epic's exclusive "Daring Lifestyle Bundle" includes the Jungle Adventure Game Pack, the Luxury Party Stuff Pack, and the Fashion Street Kit.
The Sims 4 base game is available via the Epic Games Store, however, many people will probably own it already on the EA App (formerly Origin). I have tested it myself and it is possible to redeem the free bundle from EGS and install its contents even if you're an EA App user, but it gets a bit complicated. Read on below for everything you need to know about how to get your free Sims 4 DLC from Epic.
How to link your EA App and Epic Games Store accounts
In order to link your EA App and Epic Games Store accounts you need to:
Install both the EA App and Epic Games Launcher on your PC.
Sign in to your Epic Games account.
Go to The Sims 4 in your Epic Games library and click "Install" or "Launch" (depending on whether it's already installed on the PC you're using.)
This will cause the EA App to launch and prompt you to link your accounts. Click the button to proceed and sign in to your EA account to complete the link.
Somewhat frustratingly, you'll need an EA game in your EGS library before you can link the two accounts together. Luckily, The Sims 4 base game is now free-to-play, so if you're an EA App user, you can just "purchase" it again via Epic to add it to your library.
Once The Sims 4 is installed on your PC and present in both game libraries, you can launch it from the Epic Games launcher. You'll then be prompted to link your EGS account to your EA account. It's a simple one-button linking process as shown below: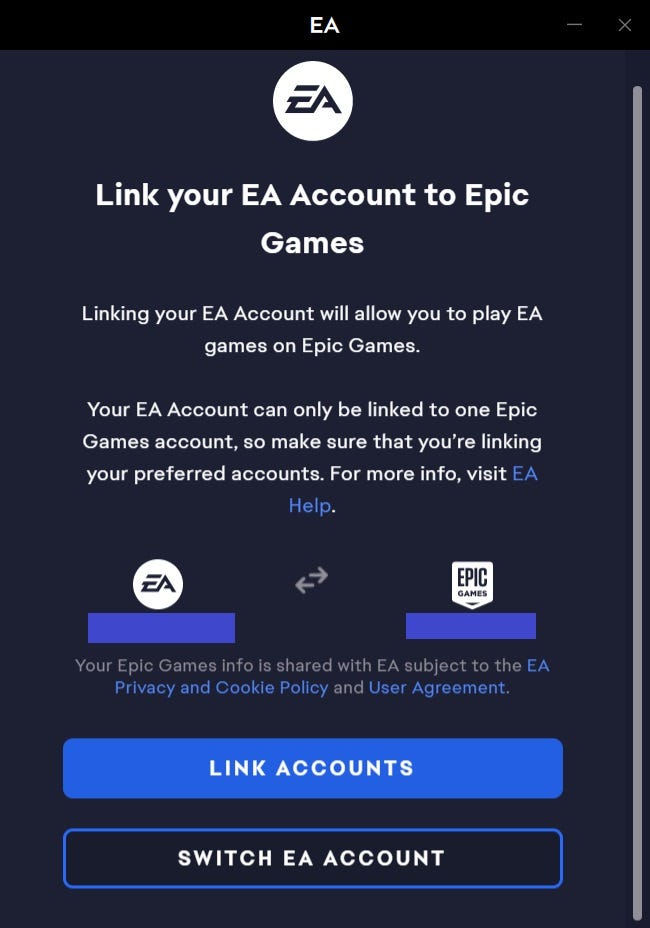 Now you can go back to the Epic Games storefront and "purchase" the free Daring Lifestyle DLC bundle for The Sims 4. (Note that if you try to do this without having The Sims 4 in your EGS library first, it'll cause the checkout screen to eventually time out without completing the purchase.)
In order to install your new DLC, launch the game once via the Epic Games Store and it will download automatically. Note that if you launch the game from the EA App instead after making your purchase, the DLC bundle won't begin to download until you launch via EGS. However, once the DLC is installed, you can launch The Sims 4 directly from the EA App launcher and you'll still be able to play with the DLC you claimed from Epic.
---
What happens if I already own Sims 4 DLC from the EA App?
You can redeem the Daring Lifestyle bundle from EGS even if you already own some of the DLC pieces it includes via the EA App. You'll get a little warning from EGS that you're about to duplicate a purchase, as seen below: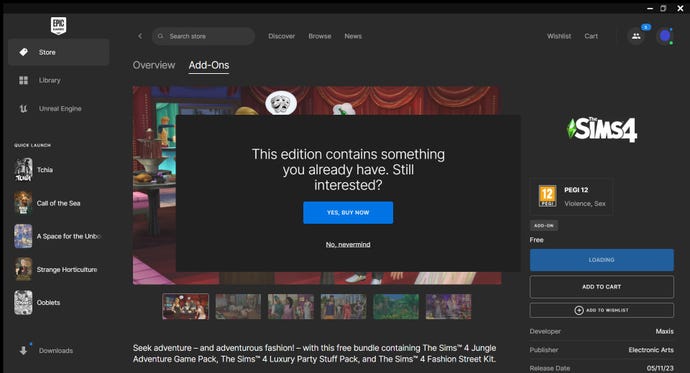 I tested this myself: I already owned Jungle Adventure and Luxury Party Stuff via the EA App, but I didn't have the Fashion Street Kit. The kit downloaded into my game after I purchased the bundle, while my other installed content was unaffected. I can still manage the "duplicated" game and stuff packs via the EA App, so no need to worry about your older purchases being overwritten by the freebie bundle.
You can play The Sims 4 with a mix-and-match of DLC purchased from both the EA App and Epic Games Store. You'll even be able to manage DLC you own via Epic from within the EA App, although it might take a couple of restarts to see your EGS purchases in the EA App library.
---
What about Steam users?
Unfortunately, if you play The Sims 4 solely via Steam, you'll be unable to redeem the free Epic Games Store DLC bundle, because Steam and EGS accounts can't be linked together. However, you can link Steam to the EA App and (as outlined above) the EA App to the Epic Games launcher, meaning that Steam players could theoretically claim the free bundle as long as they have the EA App as a go-between. However, I haven't been able to test this myself and it is an unofficial work-around at best.
The offer of a free Sims 4 DLC bundle from Epic Games store is only valid for a week starting May 11th, with the offer expiring on May 18th, 2023 at 4pm BST / 11am EDT / 8am PDT. So be sure to claim it while it lasts! And if you want some ideas on what to do now that you have the game, allow your friendly neighbourhood Sims 4 fanatic to recommend to you the best Sims 4 mods in 2023.