Little Nightmares has crept onto PC to creep you out
BOO!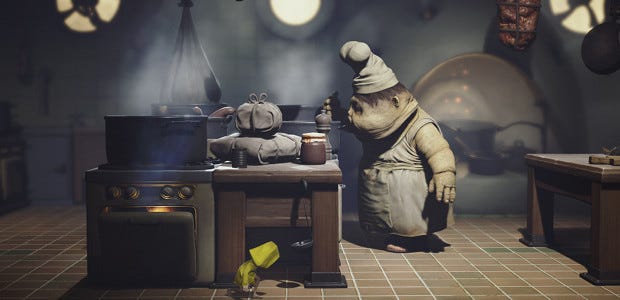 "I've loved almost every minute of it," our Adam said about Little Nightmares [official site] last week. Only you had no way to play it then, as it wasn't out, so all you could do was stare at it through the shop window, face pressed up against the glass. Oh, how you longed to puzzle-o-sneak-a-platform past Tarsier Studios' horrors! Good news: Little Nightmares is now out, launched last night. Here's a launch trailer to prove it:
And I'll turn you back over to Adam's Wot I Think for more words:
"One of the many things I love about the game is the confusion of scale that afflicts everything, from what appear to be people to furniture and food. Early on, a man hangs from the ceiling, his legs dangling near a chair that was presumably an instrumental part of his death. Compared to the player character, the chair is enormous and compared to the man, it's too small to be functional. As you squeeze through tiny openings and try to go unnoticed, scuttling beneath cabinets and tables, it's clear that this world wasn't built for the likes of you, but it's not entirely clear who it was built for. Nobody seems to fit quite right and there's little comfort to be found anywhere."
I look forward to playing this while peeking through my fingers.
Little Nightmares is £15.99/19,99€/$19.99 on Steam and GOG for Windows. Folks who buy from GOG in the next fortnight will get a free copy of Inside too.