Mars surviv-o-builder Rokh is out on early access now
Rokh, paper, shotgun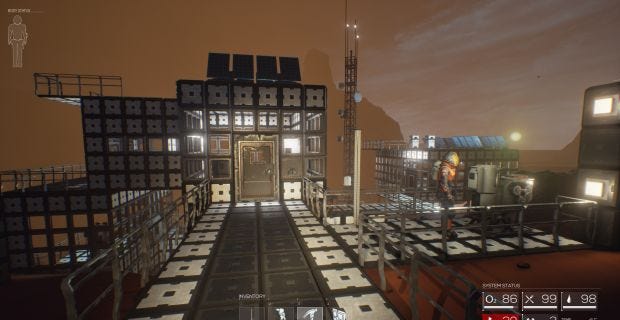 It's a dry and dusty landscape filled with useless dirt, housing only the occasional interesting find. No, not Mars, I'm talking about early access. Ha ha ha. Anyway, another survival game has crash-landed on the buggy marketplace, this time set on the red planet. Rokh [official site] sees you teaming up with buds to create a stable home on our stormy neighbour using modular building bits. It looks very atmospheric, if a little familiar.

"ROKH challenges players to uncover the cause of the destruction of the previous Mars colonies," say developers Darewise and Nvizzio, "while building new ones and restoring communications with Earth."
It's hard to tell from the trailers we've seen so far what's going to be different about this survive 'em up. There doesn't appear to be any monsters or silliness like that, but environmental disasters will play a part, including radiation, freezing temperatures, sandstorms and meteor showers. Whether that and the inevitable food and oxygen meters will be enough to motivate players to piece together a new life, who knows.
I'll be taking a closer look at it for Premature Evaluation, provided it actually works. The last two survival games I've tried – P.A.M.E.L.A and Hellion – were both so buggy and poorly optimised that I couldn't even play them long enough to make a decent judgement. Hopefully, Rokh will show more promise. It does at least look very pretty.