Meta Quest 3 announced: mixed reality headset launching this year for £500
The Meta Quest 2 is getting a price cut too
The Meta Quest 3 is very much real and releasing this autumn, according to apparently of-this-world executive Mark Zuckerberg. The followup to the Oculus/Meta Quest 2, which despite its advanced age is still one of the best VR gaming headsets, is a full-on mixed reality kit, taking advantage of its new all-colour passthrough to enable AR gaming as well as 'traditional' VR play.
The Quest 3 will cost ya, though. With a starting price of £500 / $500 for the 128GB version, it will be 100 (enter slang term for your anglosphere currency here) more than current Quest 2 pricing. And that gap will widen, as Meta have also confirmed that the old model will be cut down to £300 / $300 on June 4th.
I suppose £500 is still but a fraction of what fellow wireless headset the HTC Vive XR Elite costs, but still, let's consider what you get for the money. The Quest 3 is powered by a new, much faster Qualcomm Snapdragon chip, so should perform better when it's not connected to a PC. The display resolution hasn't been revealed yet but is confirmed to be higher than the Quest 2's 1832x1920 per-eye optics, and they'll be physically thinner as well, reducing headset bulk. Full colour passthrough is another upgrade, as the Quest 2 only lets you see the outside world in greyscale.
The two wireless controllers have also been redesigned, ditched the big plastic halos and adding haptic feedback as standard. That was previously only a feature on Meta's premium Quest Pro controllers.
Zuckerberg promised more details at Meta's Connect conference on September 27th, presumably including full specs and release date info. Hopefully we'll get to see more of the Quest 3's PC VR capabilities, too – it's a relief that the trailer above focuses more on meaty games rather than tedious, sometimes literally legless metaverse guff, but most of the best VR games won't benefit from the AR features that are seemingly driving the Quest 3's price up. The tabletop game played on an actual tabletop looks neat, though.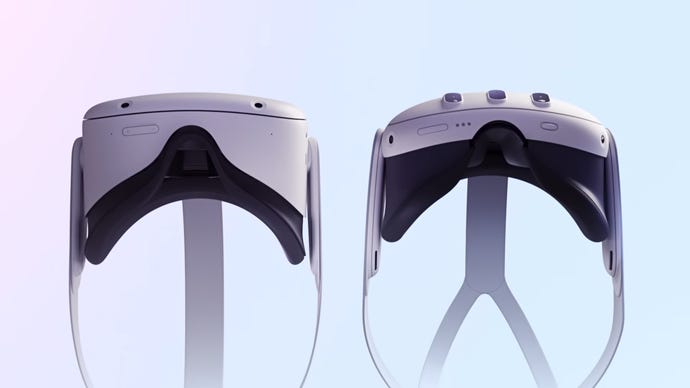 Speaking of existing VR games, the Quest 3 will also be backwards compatible, so anything you can play on the Quest 2, you can play on the Quest 3. Expect the upcoming headset to still require a Meta account, however. This makes marginally more sense than the previously enforced demand for a Facebook account, but Meta accounts still involve handing over plenty of personal info.
If anything I wonder if the Quest 2's price drop will make it worth keeping around once the replacement hits. But then this too is not as generous as it seems: £300 / $300 is only the same as what the original, since-discontinued 64GB model launched at back in 2020, when it was still named the Oculus Quest 2.
Ah well. We'll see how the Quest 3 turns out, and at the very least, it probably won't be the priciest headset being announced this month. Apple, a name rarely spoken of here on RPS, are heavily rumoured to be revealing their own VR/mixed reality headset at their annual WWDC event on June 5th.