Metal Gear Solid 5: The Phantom Pain Videos Go Quiet-ly
Can't keep Quiet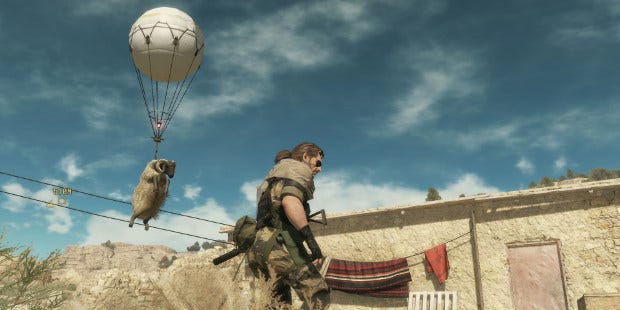 I'm excited enough at this point for Metal Gear Solid V: The Phantom Pain that I'm willing to watch videos that are entirely in Japanese. Heck, in some ways I prefer it this way. These latest videos - a three minute trailer and a twenty-one minute playthrough - both come from the Tokyo Game Show, and not being in English means I don't have to listen to the feverish conspiratorial jibber-jabber and can instead just imagine the wonders of an open-world stealth game.
Here's the trailer:
All cutscene, but it seems to be set on Snake's homebase, a customisable oilrig-style structure where you can capture and send equipment and enemy troops, and which can be invaded by other players in a special multiplayer mode. Lots of that parachute-capturing can be seen in this 21-minute playthrough from RajmanGamingHD:
Which shows some pretty, jungle-set open world infiltration. At around 2m 40s, when he parachutes his horse into the sky? That's you sending your steed back to HQ for later use.
If you're not familiar with Metal Gear Solid, the latest entry in the series is like this: Red Dead Redemption's horses and desert, FarCry 3's forts, jungle and vehicles, and an anime series' silly sense of humour. Even if you've never played a Metal Gear Solid game - and I haven't played any since MGS in 1999 - you ought to be keeping an eye on this.
At TGS, series director Hideo Kojima also announced the Metal Gear Collection. That name had previously caused a flurry of rumours as people guessed that it must be a new HD re-release of all prior Metal Gear Solid games, and hoped that the Phantom Pain's and Ground Zeroes' confirmed PC release might mean we finally get some of the thus-far absent previous entries as well. Alas, no. The Metal Gear Collection is a set of camo-inspired clothes for men and women, which makes the previous excitement pretty funny. I can't find any photos of the actual clothes online, but given Quiet's dumb outfit in the videos above, I'm guessing it doesn't use much fabric.
Metal Gear Solid V: The Phantom Pain is due for release sometime in 2015, and PC players are still waiting for Ground Zeroes, the prequel released on console back in March. I like Ground Zeroes because you can put the words in its title in any order and it still evokes the same style of game. Solid Gear Zeroes: Metal Ground.
Thanks, PC Gamer.