Minecraft Legends release time: When can you start playing Minecraft Legends?
When can you start playing Minecraft Legends in your timezone?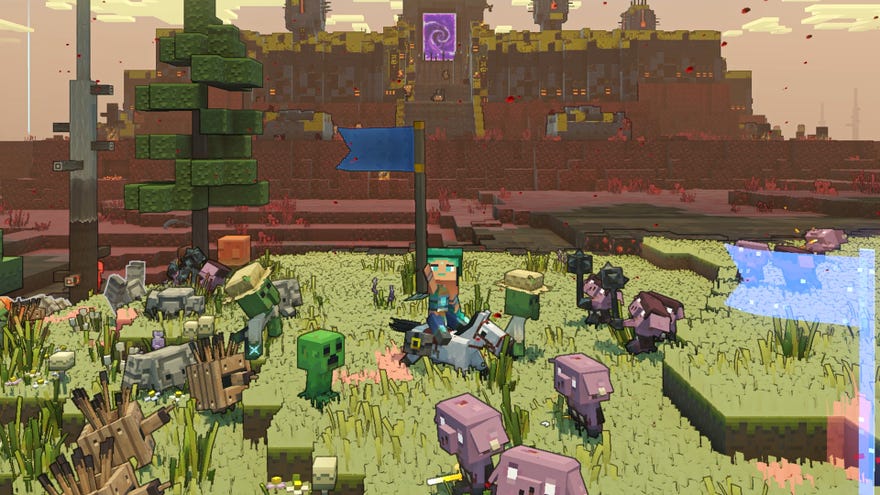 What time does Minecraft Legends release? Every year, every month, every day, the universe of Minecraft gets a little larger. Today it takes quite a big step on this journey with the release of another brand new standalone game set in the Minecraft universe. Minecraft Legends is an adventure RTS game where the player must protect the Overworld from a demonic Piglin invasion, and it gives players a very different experience from regular old Minecraft or anything else in that Mojang has offered its players so far.
If you can't wait to get stuck into playing this brand new Piglin-infested strategy game, then you've come to the right place. On this page we'll walk you through the exact release time of Minecraft Legends no matter where you are in the world, so you can start playing the moment it releases. We'll also answer a couple of important questions about the game's price, download size, and Game Pass availability!
Minecraft Legends release time
Minecraft Legends releases on Tuesday, April 18th 2023 at 5pm BST. Here is the release time in different areas of the world:
Seattle: 9am PDT
New York: 12pm EDT
Sao Paulo: 1pm BRT
London: 5pm BST
Stockholm: 6pm CEST
New Delhi: 9:30pm IST
Tokyo: 1am JST (April 19)
Sydney: 2am AEST (April 19)
Here's the full map of Minecraft Legends release times published by the developers at Mojang and Blackbird Interactive: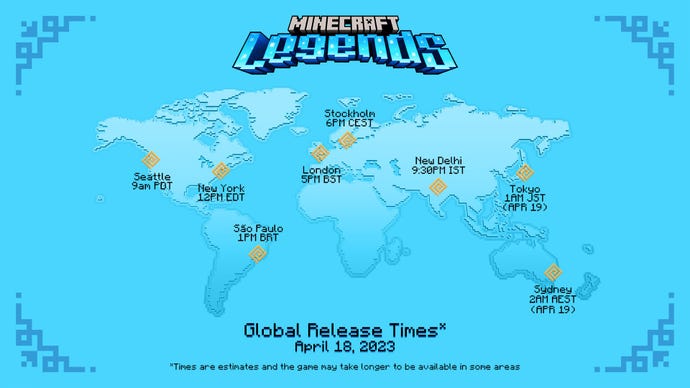 Minecraft Legends will release simultaneously on all its platforms - that includes PC, Xbox Series X|S, Xbox One, Playstation 5, Playstation 4, and Switch. It is also a Day One Game Pass game.
---
Minecraft Legends price
Minecraft Legends will cost £35 / $40 / €40 on release. It will be available through the regular Minecraft Launcher (the launcher you use to play Minecraft itself), but it is also accessible through the Xbox Store on Game Pass. So if you're subscribed to Game Pass then you'll get the game for free without having to purchase it.
It's unlikely that you'll see discounts anytime soon for Minecraft Legends, so if you're not on Game Pass then this is the price you'll have to pay to play the game. It's also worth noting that there is an in-game Marketplace in Minecraft Legends where you can purchase skins and other cosmetics using real money - though these purchases are not necessary in order to play the game, and have no real impact on the game experience.
---
Minecraft Legends download size
Minecraft Legends is approximately 11 GB once downloaded on PC via the Xbox App. However, this download size may differ depending on the machine and platform that you install the game on. Steam's system requirements lists the game as requiring 24 GB of available space, so this should give you a rough idea of how much free space you'll need to start playing the game.
---
That's all you really need to know to get started playing Minecraft Legends and saving the Overworld as soon as you possibly can. If you want to read more on our thoughts about Mojang's first foray into the real-time strategy genre, then take a look at our Minecraft Legends review.