Minecraft Legends multiplayer guide: Here's how to play with friends
Here's how to start playing Minecraft Legends with friends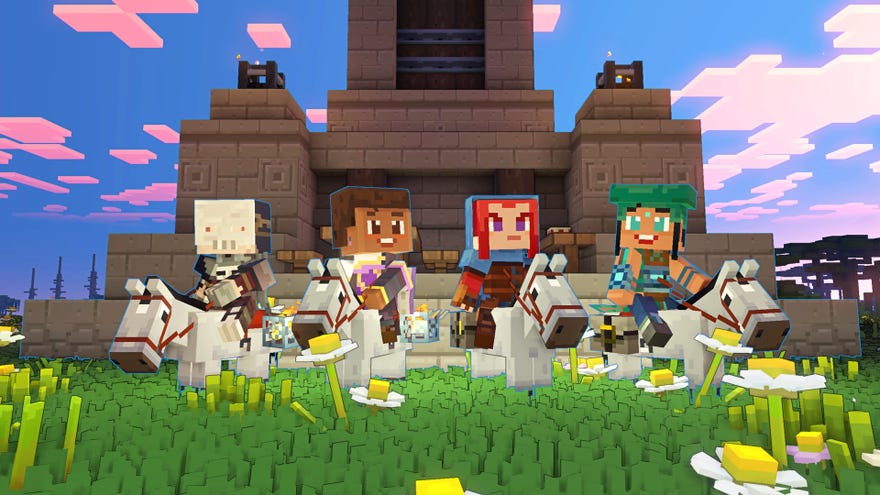 Want to know how to play Minecraft Legends multiplayer? With the exception of Minecraft Story Mode, every Minecraft game that Mojang has released has had multiplayer at its heart. The same is definitely true of Minecraft Legends, and in fact it goes one step further. This is the first Minecraft game that has been created from the ground up to be a competitive PvP multiplayer experience.
That's not to say you need to compete with your friends at all times! It's also entirely possible to play through the campaign and other scenarios in co-op multiplayer with your friends. On this page we'll explain how to set up a multiplayer game in Minecraft Legends for whatever game mode you desire.
How to play Minecraft Legends multiplayer
There are two plays to play Minecraft Legends multiplayer: either you can play through the campaign (or a Lost Legends scenario) in co-op, or you can play against other players in Versus Mode.
It's very easy to set up or join a game no matter how you'd like to play multiplayer. Below we'll go over how to play co-op and how to play PvP in Minecraft Legends.
How to play the campaign in co-op multiplayer
To play through a new campaign with friends, just click the "New Game" button, and then tap TAB or click the "Friends" button at the bottom of your screen to open up your friends list. If you're on controller or Switch, then you can also tap whatever button is indicated at the bottom of the screen next to "Friends".
Here, you can select and invite anyone in your friends list to join your game while the world is loading. You can invite a maximum of 3 other friends to join you in your campaign.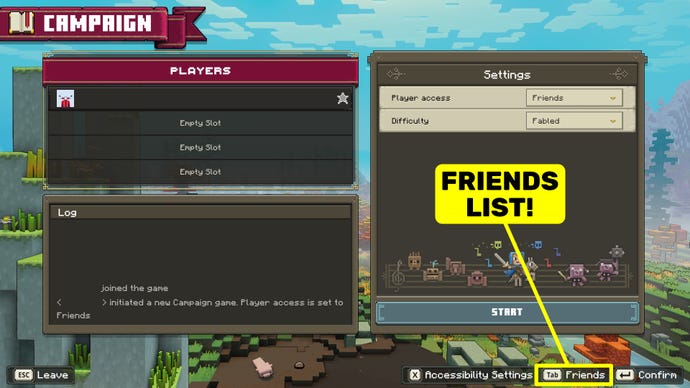 Once everyone has accepted your invites, simply start the game, and you'll all find yourselves loading into the same world together. Simple!
You can also invite friends into an existing Campaign game in exactly the same way. Just select the existing Campaign game, and then invite your friends to turn the singleplayer game into multiplayer.
How to join a Minecraft Legends multiplayer game
If a host has set their game's player access to "Friends" instead of "Invite Only" under Player Settings, then their friends can join the host's game without needing to be invited.
To join an existing multiplayer game in Minecraft Legends, click the "Friends" button at the bottom of the main menu screen, and then click the host's name and select "Join Game". This will automatically load you into the host's multiplayer game.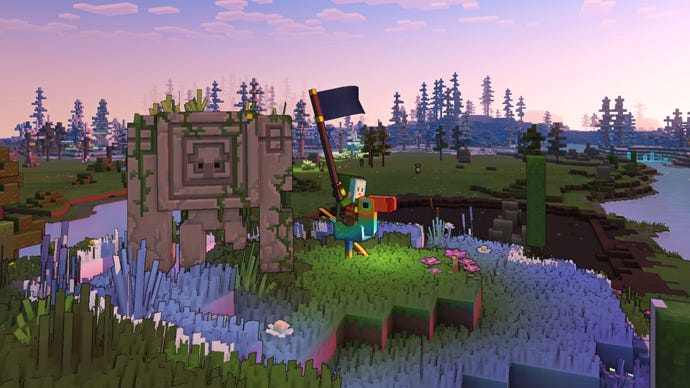 How to play Minecraft Legends in PvP
To play a PvP game of Minecraft Legends, you should instead select "Versus Mode" from the main menu, and then tap the Friends button to open your friends list and invite up to 7 other players to join your game.
Versus Mode pits two teams of players against each other, and each team must have between 1 and 4 players. While in the Campaign your aim is to defeat all the piglin outposts and bosses, in Versus Mode your goal is to destroy the enemy team's Well Of Fate on a much smaller map than in the campaign.
Versus Mode is best suited for multiple players per team, so it's a very good idea to invite friends to join you for a match if you're able to do so!
---
Does Minecraft Legends have crossplay?
Minecraft Legends has full crossplay support across all its platforms. This means that players on PC can easily play with other players on Xbox, Playstation, and even Switch - and vice versa.
It's all done through your Microsoft account, so just make sure you're friends with whoever you want to invite into your Minecraft Legends multiplayer games on your Microsoft account, and you're good to go!
---
That wraps up this quick how-to on setting up multiplayer in Minecraft Legends! If you're eager to learn more about the game and how it all plays, then take a look at our Minecraft Legends review.