Minotaur blends cyberpunk visual novels and Sierra adventures
When cyber-penguins attack!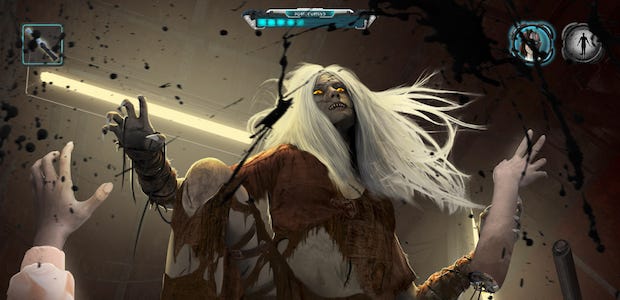 My favorite trend in gaming is finding ways to add new gameplay elements to visual novels, and today I've got a hybrid for y'all that looks craaaaaaazy great. Minotaur is a VN with a cyberpunk art style, beautiful animations, and a point-and-click adventure game interface. Striving to be a mix of Zero Escape/Danganronpa and Sierra/LucasArts clicky-cutes of yore, it looks like it nails the blend. There's also a demo available to try today. Cyberpunk worlds with magic elements seem to be en vogue and I am HERE *clap* FOR *clap* IT *disappears from existence*
Check out the trailer from their successful Kickstarter in 2017:
Ugh. I love it so much. Just those transitions between actions and the sort of world interaction seems right up my alley. I will say though: they should absolutely get rid of that PING sound between every line of dialogue. Whyyyyyy is that choice?
Minotaur tells a story about a group of nine characters (five of which are playable) who find themselves unable to leave their own home. Tensions rise as things start to take turn for the worse and it becomes clear that their unfortunate situation is not an accident, but a trap of elaborate design. Revealing the identity of its creator and understanding their motives is now the matter of life and death. The story unfolds from perspective of five different characters, and although you can only unlock routes in succession, your actions and choices in each of them have universal effect and lead to one of four different endings.
Set in The Universe of Seven, the U7 committee has big plans for expanding the world of Minotaur into a prequel, a novel, and a board game in the near future. I appreciate the pre-work invested in figuring out your entire expanded universe before releasing your first title, and finding ways to make it entertaining in different game forms.
You can grab the demo from Steam.