Monkey Island 2's Unofficial 3D Treatment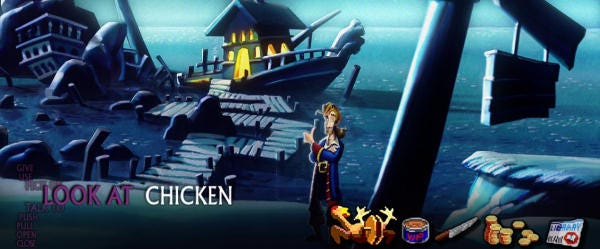 This should put the new fuzzier friendlier LucasArts to the test. Following their remake of Monkey Island, a German modder is seeing how much farther the reinvention of the classic adventures can be taken. He's recreating Monkey Island 2 in the Cryengine. And it looks very pretty indeed. In fact, it's astonishing, capturing the original style faithfully, but rendered in 3D. Pics and videos underneath.
It's hard to imagine this as anything other than beyond doomed. LucasArts have said that they haven't ruled out remaking other old games if the first is a success, and Monkey 2 is an obvious contender to come next. But looking at the work from Hannes Appell's LONECLONE, they might want to consider taking the more exciting step of hiring him.
Clearly I completely understand how Appell is rendering the original scenes in 3D, but if I wrote it out it would be too clever and complicated for people to understand. So instead, and definitely because I definitely do understand it all, I'm going to quote his own explanation:
"While the art style for MONKEY 1 is somewhat less defined due to the nature of the pixelated Deluxe Paint backgrounds, MONKEY 2 uses scanned hand-painted backgrounds. Simply redrawing the scanned artworks to work in higher resolutions would be a bit of a shame actually, but there is another way of bringing them into the high definition future. So, rather than loading up an original background or a scanned piece of concept art as a template and then repainting or drawing over the original, we'll do something a little bit more sophisticated.

A camera mapping method is used to create higher image fidelity and detail from the original 2D concept art. The technique is normally used to produce 2,5D or 3D mattepaintings out of a 2D or photo source and to speed up the production process. But hey! There is no rule against using it to enhance a normal 2D background. The original art is projected onto simple 3d geometry that is built with the original viewpoint in mind. If done right, even basic 3d geometry can enhance lighting mood, shadows and surface details. On top of that camera mapping opens up possibilities for animation or a conversion into a faithful 3D level or 3D scene."
Yeah, me too! He continues:
"After some model clean-up and baking of the projected image into a UV texture usable by a 3d game engine, the sets are ready for real-time use! They were taken into CRYENGINE2 to further explore them and add surrounding environments. Due to enhanced shader techniques, as well as enhanced real-time lightling effects like HDR, cloud shadows and multiple dynamic lights, rendering quality from CRYENGINE2 surpasses the normal Maya output quality easily. The only thing missing now is a proper 3d Guybrush!"
I, er, know what Maya is. Oh, hell, this video explains it brilliantly:
But still, my pathetic ignorance doesn't change the fact that this is a really exciting project and one it would be great to see LucasArts supporting. See all the details here. And thanks to everyone who let us know about this. Here's a video of it in action in Crysis, which is all kinds of great: