Devil Daggers & free Pony Island in new Humble Bundle
Game of games, king of kings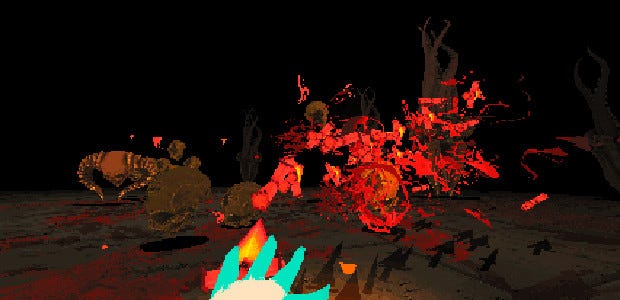 John might tell you that the highlight of the bargain Humble Bundle is a free copy of Pony Island, an "Oh I'd tell you what it is but even that would be giving too much away" game he declared the smartest game of 2016. Me, I'm here to tell you that the bargain bundle's highlight is actually Devil Daggers, a deadly fast score attack FPS which feels like it escaped from an alternate timeline where everything's all skulls and satans - and is RPS's actual official Bestest Best game of 2016. Mate, you could have both of those -- and more -- for just a couple of quid. Mega-deal!
The Humble microJUMBO Bundle runs on the usual model: name your own price, getting more games as you pay more, and dividing your cash as you please between the developers, Humble, and charity.
Simply tell Humble your e-mail address and they'll give you Pony Island and the first episode of adventure game Space Pilgrim for free.
Pay anything at all and you'll get the other three episodes of Space Pilgrim.
Pay at least $1 and you'll get Steam keys for Space Pilgrim and Pony Island, as well as copies of rhythm-based platformer Geometry Dash and rude word battler Oh...Sir!! The Insult Simulator.
Beat the current average price ($3.02 or £2.32-ish as I write) and you'll also get the wonderful Devil Daggers, competitive multiplayer dad-must-stop-small-child-from-killing-itself simulator Who's Your Daddy, more rude words in Oh...Sir! The Hollywood Roast, hack 'em up Hack_me and its sequel, and Mafia-o-Werewolf 'em up Town of Salem. The ace Devil Daggers soundtrack is thrown in too.
You've got another thirteen days to grab this bundle.
Here's some of John's mutterings about Pony Island:
"Pony Island is, on a surface level that it barely even shows, a game about jumping a cute ponycorn over some white sticks. What it really is, is a battle for your soul. Your literal soul. Along the way it messes you about, from its opening muddle of broken menus to its complete collapse at a code level, incessantly throwing ideas at you while making you feel really fucking uncomfortable."
And here's Adam on how Devil Daggers deserves being named our favourite of 2016:
"That makes me extremely happy because it's a game that gets every detail of its design just right. I might prefer the messy character work and mathematics of a grand strategy game long-term, but I've never come across one as perfectly crafted as Devil Daggers and almost certainly never will. Aesthetically, it's creepy, artistically distinct, and painstakingly legible, in both audio and visual departments, and the pace of every projectile and enemy is exactly right. It's challenging and life is brief, but it never wastes your time. Its leaderboards are both the carrot and the stick, promising improvement (and showing how to achieve it through accessible replays of other peoples' best attempts) and showing how much is left to do."
We should have awarded Devil Daggers additional prizes for Bestest Best Sound and Bestest Best Look.