Steam charts: autumn sale edition
A stroll down the hit parade
Hey ho, chart fans, let's go. Statman John is indisposed today, and was last seen meandering along the seafront muttering "Plunkbat! They give me Plunkbat! I've a grand idea for a grand theft five five fi-diddly-fi fi whoopsadaisy down we go," so I'm taking over for this week's Steam charts. Seeing as he's always griping about the charts being identical, I'm sure John will be infuriated to miss seeing how much Steam's autumn sale changed things. Won't you join for me a stroll down the hit parade?
Continuing to put Bryan Adams, Wet Wet Wet, and those other charlatans to shame, Counter-Strike a go-go is still hanging in the top ten. I first played CS back in the Half-Life mod's beta days and do so enjoy seeing classic bits reborn and reinvigorated over and over across the years and games. That new de_dust2 is a right looker. We ourselves recently declared CS:GO one of the best PC games so cor, CS is officially as praiseworthy as Deadly Premonition.
Crumbs, £14 for this cracking RPG and both its expansions? That's not bad, that. Thanks, autumn sale. The Witcher is also one of the best games, we say; it too is as noteworthy as Deadly Premonition. Am I building suspense for a revelation that Deadly Premonition is top of the hit parade this week? Well...
"They thought I disappeared," Wretch32 sings on the All Stars remix of Labrinth's Earthquake, "I just did a gap year like a fresher came back like a graduate." Assassin's Creed did a gap year and has come back like it visited Egypt during its gap yah. Nothing revolutionary but sure, decent enough, our Asscreedo review broadly said. Statman John has written about enjoying its Photo Mode and swimming, though, and Alex Wiltshire has cooed over its tomb-raiding and radio-controlled eagle.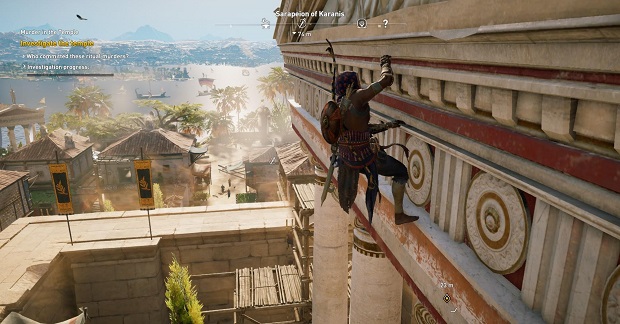 I'm dead impressed that Siege is a permanent fixture on the hit parade. I don't actually know anyone who still plays it, perhaps because my chums and I are old enough that we want our face-shooting to include elements of Bargain Hunt and rambling so we play Plunkbat, but clearly many people loving shooting through walls to shoot faces. Good on 'em. Rich McCormick tells us it's still a cracker too. Ubisoft have another year of free content updates planned, including a new cooperative event. The half-price sale on Steam surely helped Siege hang in this week too.
This is the stuff. Automata is one of my favourite games of the past year and I still wish I had the freedom (from people griping about SPOILERZ) to talk more about some of the places it goes, some of the sights it sees, and some of the terrible tragedies. I adore these sad little robotic warteens. The fisticuffs is good stuff too - not as technical as Platinum's full-on fight 'em ups but still satisfying. Ah, I like this game a lot and I'm very glad more of you will be experiencing it. I understand its technical problems have put some folks off -- and it is shocking that Square Enix have not ordered it fixed -- but I suppose a 40% discount in the Steam sale was enough to win many over. I'm glad.
Back once again with the renegade master, D for damager, with the ill behaviour. Some people will tell you the lyric is "D4 damager" but are they thinking it's a pen & paper roleplaying reference? Anyway, as usual, this double appearance is due to how Steam tracks different packages and blah blah.
A big hunk of plastic slams into the charts this week, Valve's very own strange gamepad-trackpad hybrid doodad. I know Alec didn't much like the Controller when it first launched in 2015, though I do also know updates from Valve and user-made profiles have done a lot to improve it. Gang, if you're already Controlling Steam yourself, what hot tips do you have for the many folks who have picked one up during the sale?
More plastic! This one is the box used to display games from your PC on your TV or elsewhere, letting PC games go where no PC is. I prefer to play some games on the sofa myself but still schlep my laptop into the lounge, which seems foolish. I should get one of these myself. I'm playing Deadly Premonition on the sofa at the moment. The Steam Link is dead cheap in the sale, down to £4 from £40 - or only £28 bundled with the Steam Controller. As Emma, Geri, Mel, Mel, and Victoria might have said back in the day, "Steam up your life!"
Here it is! Half-price in the Steam sale, it's Rockstar's latest mega-fancy sandbox world. [Disclosure: I sorta know some people who work on GTA but I don't know them well enough that I would, say, make plans to do something with just them?] I've still not finished the campaign but I do like hanging around in its world. Did you read Alyse Stanley's bit on the joys of eavesdropping in GTA V? Good stuff. Statman John would be disappointed if I didn't continue his running joke so:
What Are Rockstar Spending All The GTA V Money On?
Covertly replumbing John's home so wee comes out the taps and he needs to take a week off work.
I am as surprised as you that Deadly Premonition is not #1. Plunkbat crowdsurfs to the top of the hit parade during a big Steam sale despite bearing no discount itself - quite the feat. Plunkbat seems to have reached that critical mass of multiplayer games where people buy it because everyone they know is playing it - my gang of Plunkpals is still expanding with people I didn't even know liked FPSs. It's that winning combination of face-shooting, Bargain Hunt, and hiking. I'm playing a lot more aggressively these days and it's mostly working wonderfully, aside from all the times it goes terribly wrong. But give me an intense and catastrophic loss over a boring near-win any day.
Tradition dictates that I end the Steam charts on a song. I refuse to believe that Cyber Monday is nothing to do with cyberpunk, so here's some Front Line Assembly: