Nvidia's brand new RTX 4070 is already going for £40 off
That's £550 plus £6 shipping for a Palit Dual 12GB design from Novatech.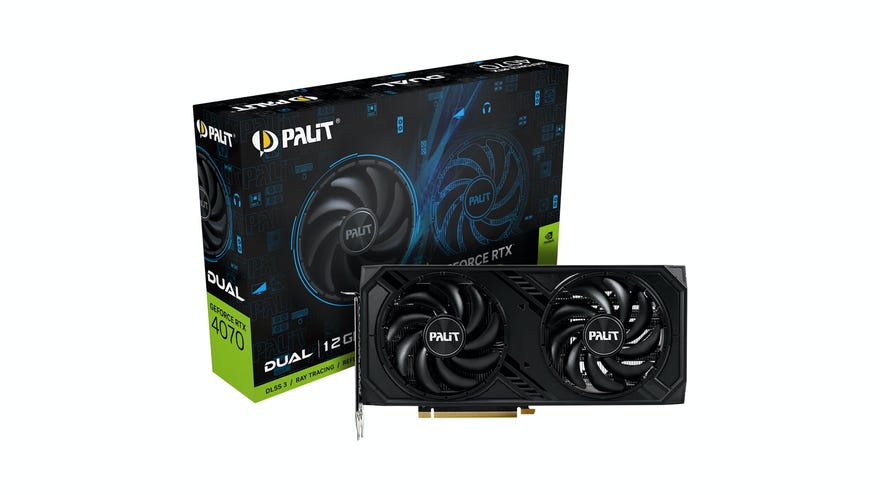 Nvidia's new GeForce RTX 4070 graphics card has launched to warm reviews thanks to its performance, power efficiency and DLSS 3 - including here at RPS - but its £589 price point has been decried as a bit over the top.
Enter Novatech, who are offering a Palit RTX 4070 for just £550, a £40 reduction from RRP and the best deal we've seen on the 4070 thus far. Add on £6 for next-day shipping and you've got a high-end card for a cool £34 off!
Palit aren't as well known as companies like Asus, MSI or Gigabyte, but they're a strong GPU maker that tend to produce some excellent designs at a low price. Of course, the card uses the same GPU die at its centre, so performance here will be exactly the same as performance from other 4070 models.
That means excellent performance at 1440p with maxed settings, with the option for 4K maxed settings in many games that support DLSS 2 and/or DLSS 3 frame generation providing a visually smooth experience in games that support both techs. Nvidia is pushing both options and we're already seeing a ton of games that support the newer DLSS 3, and I'd expect that it eventually becomes as predominant as DLSS 2 is right now - and something that will no doubt be offered by AMD and Intel in the future, as both companies have hinted that they're working on something similar.
This is a great deal for a brand new GPU, but if you'd prefer something a little different - how about the RX 6950 XT, AMD's last-gen flagship? It's now not much more expensive than the 4070 RRP at £630 and offers faster rasterised performance with more VRAM - but requires more power, does worse in RT and lacks a DLSS 3 competitor (but at least there's FSR 2 to counter DLSS 2). I'd probably still go for the 4070, but it's good to have options!