Octahedron wants you to climb-dance your way to Heaven
Rhythm platforming gets a re-invention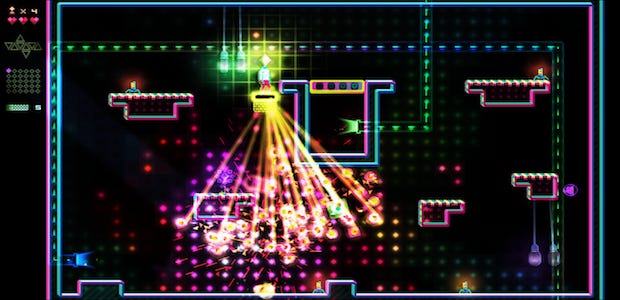 There's a new psychedelic rhythm-synced action platformer on the market today. Octahedron let's you surf through a pulsating, underground world on platforms pulled from thin air in this challenging psychedelic action game that has you defying gravity to a pumping beat. I always love to platform upwards, and there simply aren't enough dance platformers in the world today.
Square Enix released Octahedron, the 2D vertical action platformer by indie studio Demimonde. The rhythm-synced platformer brings its kaleidoscope of color to PC gamers, challenging them with mastering the game's 2D handcrafted levels in order to escape the strange subterranean world of Veetragoul. Players must create their own platforms in quick time to survive, fighting back against scores of enemies out to take you down in the process.
Here's the trailer that should put the entire thing into perspective.
Having played a bit of the game, I can attest to the fact that each level goes out of its way to introduce new mechanics. It's a delight and also the colors? The colors are bright as hell. Colors: they're good again! And this neon world is exciting.
It's an energized encounter, running at a smooth 60 FPS and brilliantly synced with a soundtrack created by popular video game composer Chipzel and trance producer and DJ Andre Sobota, amongst others.
A selection of features the game boasts includes:
- Entirely new and seamless platform creation mechanic

- Super tight 2D action platforming at 60 fps

- Pumping, atmospheric soundtrack by chip queen extraordinaire Chipzel, and Monomirror (of classic trance acts like Flutlicht)

- Enemies and level elements that respond to and follow the beat of the music

- Discover and unlock new platforms with unique abilities

- 40+ handcrafted levels across multiple themed worlds

- No intrusive tutorials: levels & mechanics carefully designed to be discovered and explored on your own
Check out the Steam page for the game here.