Ori And The Blind Forest: Definitive Edition Out March 11
Return to the wonderful woods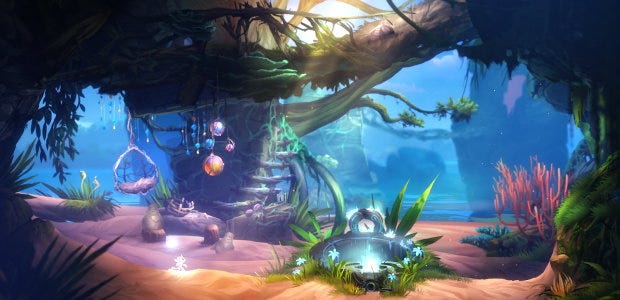 After much success following its release last year, Ori and the Blind Forest [official site] will launch its Definitive Edition on March 11th. With it, come tweaks to the game's theater mode, new story material and a brand new arena. Pop below to find out more.
In her review, Pip described Ori and the Blind Forest as a "beautiful game", and I'd struggle to argue with that. With its Studio Ghibli-esque aesthetic, touching story, and at times bastard-hard - yet never unfair - puzzlery, I for one am looking forward to returning to the Sunken Glades, or the Sorrow Pass, or the Forlorn Ruins or, well, it all, really. And the Definitive Edition welcomes a new area, Black Root Burrows, within which a new story sequence will reveal more about mother figure Naru. Developers Moon Studios say we'll learn more about her roots, her background, and why she behaves in certain ways later in the game.
New moves that'll bolster Ori's skill-set can also be found within the bounds of the new locale, such as a new dash ability and a grenade-like Light Burst. Although located in Black Root Burrows, both powers can be utilised throughout the rest of the map, while the former can be further enhanced by way of the skill tree.
It'll also expand the game's existing theater mode, adding concept art, trailers, and more on top of cutscenes.
Moon Studios say that "if you bought the original game, you'll be able to upgrade for a small upgrade fee!"
On the off-chance this is the first time you're hearing of Ori and the Blind Forest: firstly, I envy you. And secondly, here's a trailer:
Ori and the Blind Forest: Definitive Edition is due for release on Steam and Windows 10 on March 11.