Overwatch's Torbjörn rework is now on test servers
CLANG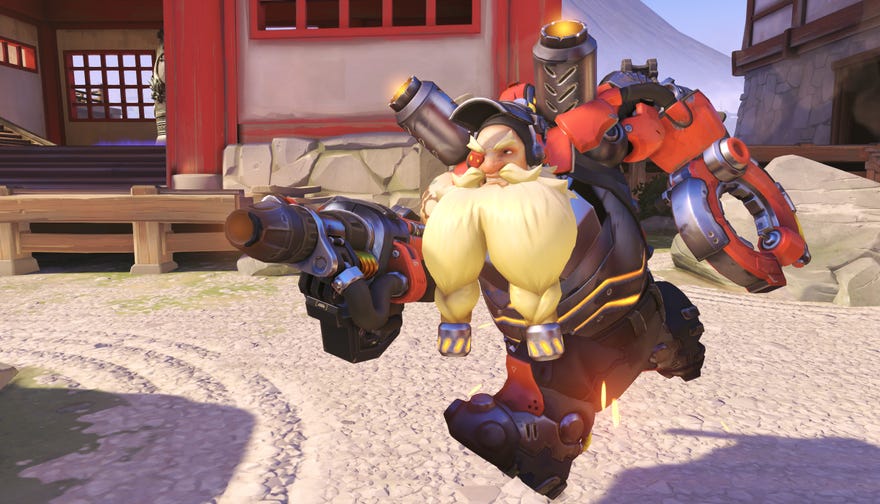 Turret-tapping notdwarf Torbjörn is next in Overwatch's queue for an rework, replacing and remaking some of his abilities to make him more flexible. His turret no longer has upgrades, for starters, his armour packs are out, and he'll get to spray pools of molten slag to block off routes and torch slaaags. This rework is now live on the test servers ahead of its official launch, for folks who wish to check it out, and that update also includes extra colourblind options. First, watch Overwatch game director Jeff Kaplan introduce what's going on with Börjtorn in Blizzard's multiplayer FPS - and talk about the upcoming Halloween event.
So! His pew-pow rivet pistol is stronger. His turret is no longer upgradeable, fixed at what was formerly level 2, and it'll automatically build when he throws it out. The turret will also prioritise targets hit by rivets, so Bortpörn can kinda direct it too. His Armour Pack skill is removed and replaced with the new Overload, which gives him temporary armour and buffs to movement and attack speed. And Molten Core, his Ultimate, which did buffing before, is replaced with a new skill confusingly also named Molten Core. The new Molten Core spaffs blobs of molten slag out his claw, which will sit around for a bit to burn baddies and hopefully control areas.
"The goal with all of these changes is to make Torb a more acceptable pick on both attack and defence, and less map- or role-dependent than he was previously. So hopefully we'll see Tor being played in a variety of new ways," Kaplan said. "We think we were successful with this with Symmetra, where we really changed her presence on the battlefield and her perception with players."
Overwatch lead designer Geoff Goodman offers more precise details on Barflörn's skill changes in this forum post.
Floorbörn isn't the only hero due a few tweaks. Also in that update: Brigitte's Barrier Shield has its health reduced; cooldown on McCree's combat roll is reduced; Orisa's Fusion Driver has its spread tightened; and Pharah's Rocket Launcher loses some splash damage while gaining extra damage for direct hits. The new colourblind options sound good and all.
"Customise how team colours are displayed in your UI (e.g. nameplates, HUD, health bars) and hero outlines with a set of nine different colourblind-friendly colours to choose from," Blizzard explain. "You choose to colourise enemy and friendly UI separately as well."
See the test realm patch notes for more on all that. Blizzard tend to give character reworks a good ol' testing, so it may be a few weeks before this update hits the live servers.
As for the Halloween Terror event, ye olde cooperative Junkenstein mode is returning, and this time with a bride for the monster. Kaplan says Blizzard are making a few tweaks to improve and it'll have new cosmetics but this year's event won't be massively different to the last.