PowerWash Simulator's first paid DLC takes players to SpongeBob SquarePants' Bikini Bottom
Clean up the ocean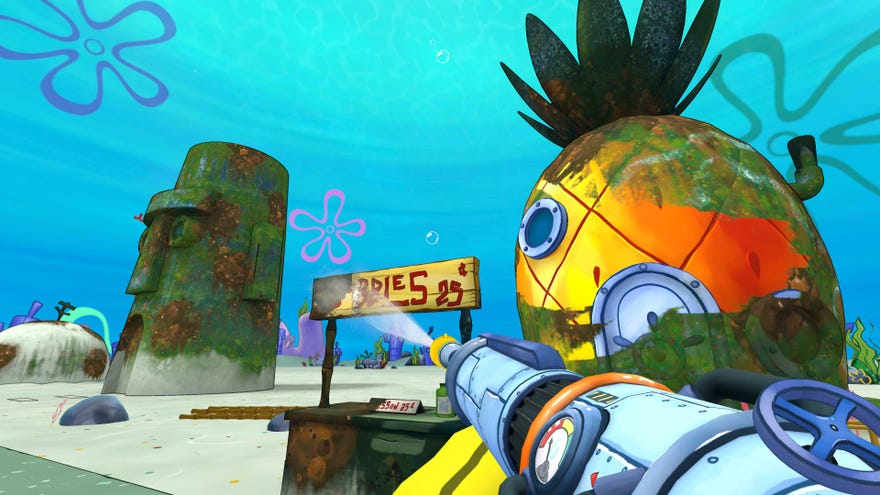 Is there a bad idea for PowerWash Simulator DLC? I'm not sure, but this seems a particuarly good one. So far the clean 'em up has been expanded with free crossover levels set in Lara Coft's Manor and Final Fantasy VII's Midgar. Next up? Bikini Bottom from SpongeBob SquarePants.
The SpongeBob SquarePants Special Pack will feature six new maps, including locations from the show such as Conch Street, The Bikini Bottom Bus, The Krusty Krab, The Patty Wagon, The Invisible Boatmobile and The Mermalair. It also features a new character model and custom-designed gear designed to help you blend in with the underwater denizens of Bikini Bottom.
Croft Manor and Midgar were both free expansions, facilitated by PowerWash Simulator being published by Square Enix. If you want to visit Bikini Bottom however, you'll need to cough up £6.49/$7.99/€7.99 for the DLC. It's due to be released this summer, with a more specific release date to be announced in the "coming weeks".
PowerWash Simulator is a more smartly-designed game than you might have come to expect from various other job sims. It was one of our favourite games of last year.
After Midgar and Croft Manor, there was a third free update released back in April, alongside a roadmap for the next year of updates. After SpongeBob will come another free update in the autumn, followed in turn by another paid DLC, and so on.
For reals though, I'm not sure what crossover DLC you could announce for PowerWash Simulator where I wouldn't think the idea delightful. I'll scrub anything.