Nearing The Finish Line: Project CARS Gamescom Trailer
Don't worry, I like pixel art too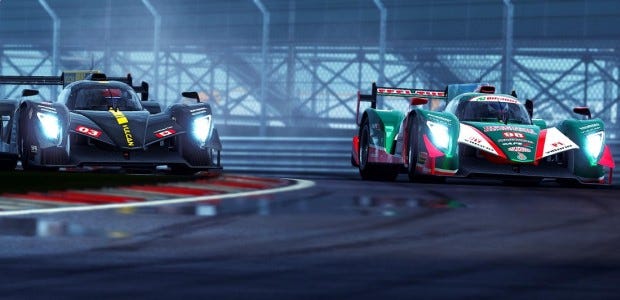 There's all kinds of things I like to pretend I'm above, like throwing recyclable materials in the normal rubbish when there's no space left in the recycling bin. I feel no need to pretend that I'm above loving some shiny videogame graphics, though. The Project CARS Gamescom trailer is, like every image of the in-development racing game, absurdly gorgeous. And embedded below, obv.
It was unexpected when racing games took pole position in the race towards photorealistic videogames, stealing the mandate from first-person shooters and speeding away before any other genre could catch up. Project CARS has other claims to fame - an unusual, pre-Kickstarter crowdsourced development model, and a broad variety of different motorsports included - but it's the absurd collection of reflective surfaces, particle effects and physics wobbles that make me want to climb into its cockpit.
Project CARS is being developed by Slightly Mad Studios, those makers of the EA-published Need for Speed: Shift. If you don't remember it, Shift (and its oddly named sequel, Shift 2: Unleashed) found a racing line midway between hardcore simulation and the arcade-y, accessible handling the Need for Speed series was better known for. It was also extremely pretty.
Project CARS isn't being backed by any publisher, having instead been funded by its developers and the community. Unlike the now standard Kickstarter/IndieGoGo model, those community members who bought-in into the project will see a share of the profits made by the game during its first two-years of release. They shouldn't have too long to wait either, as the game is due to launch before the end of the year.
Geez, this post is written like I just discovered driving metaphors. I will set that habit to neutral now, and hope you overtake me in the comments.