Revvin' All Over The World: Project CARS Tracks Trailer
Also some guff about trees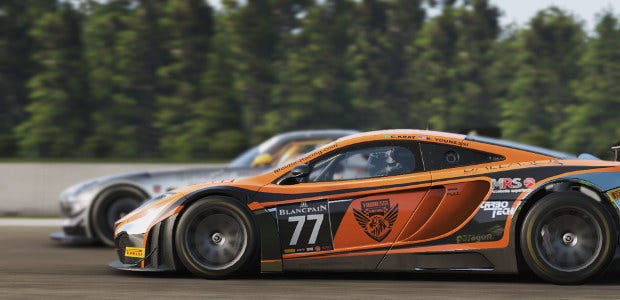 Numbers are very important to car fanatics, I understand. Torque, litres, cylinders, MPH, MPG - top numbers, great stuff. A new Project CARS [official site] trailer also focuses on numbers, even when showing all the pretty places it'll be racing around.
About the California Highway track, for example, it says simply: LENGTH 26.4 km; TURNS 107. What of the fragrant Douglas-fir! The distant roar of the Pacific! The allure of redwoods! The bigfoot chainsaw sculptures at every roadside stop! I bet you can't even get out and swim in a river. Tch, no romance, those car people. It is quite pretty, though.
Having been delayed - again - Project CARS is due in mid-May.
If this post is about the trailer and you've now seen it, rather than blah on about that, shall I tell you about my road trip through California earlier this month? We followed Route 101 out of San Francisco, which gets oh my stars just beautiful several hours out - a shame the Project CARS track looks close to SF. The land is so vast that, as cityfolk, I couldn't understand the scale. I sat leaned forward, gasping and cussing at every high mountain and deep gorge. And the redwoods! Avenue of the Giants winds through the trees, even swerving to dodge individual trees. It is the most beautiful place I've seen. I swam in Eel River. I've rarely been happier.