Quest For Infamy Larking About Villainously In June
Quest no longer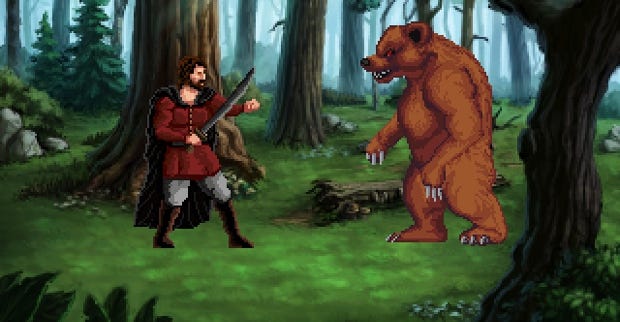 Surely one of the benefits of being a villain is that you can be as jolly or silly as you please, as if anyone pokes fun you can simply fill their throat with wasps. But no, how very brooding villains tend to be, scowling and wearing black not for the perfectly acceptable reason of because they think it makes them look 'cool' and 'artistic' (not to mention 'badass' if I've got my leather jacket on too).
Quest for Infamy is happy to be a bit daffy in its blaggardry, probably because it takes a heavy dose of inspiration from Sierra's classic Quest for Glory games with a dastardly reversal. And lo, the adventure-RPG now has a release date of June 26 and a new trailer.
Like Quest for Glory, Infamy touts adventure game-y puzzling and RPG-ish character-building and combat, peppered with scampish humour. Like weeing on a carpet. Oh, what a rake!
Quest for Infamy has been brewing for yonks, but is only nearing release thanks to a Kickstarter campaign back in 2012. It's been picked up by the publishing arm of Phoenix Online since too.
The official site does have a demo, if you fancy giving it a crack. Have a new trailer: