Sea of Thieves shows off more piratey co-op features
Yo ho ho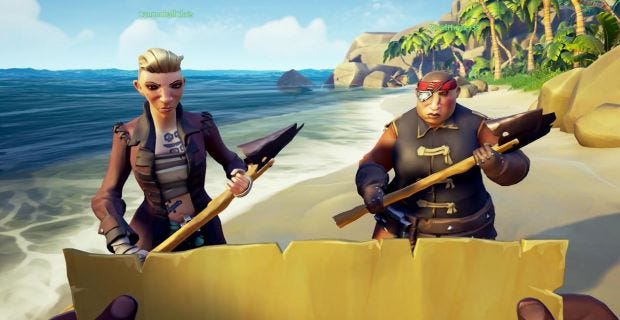 Microsoft may have stuck a dagger into each of the kidneys of Scalebound, cancelling it from future-existence, but at least they have neglected to murder upcoming co-operative pirate adventure Sea of Thieves [official site]. We've only today been reminded of the co-op hijinks by a new trailer showing some of the finer details that Rare are working into the game. There's shovels, treasure maps, sea charts and steering wheels. Everything the growing pirate needs.

So far, so intriguing. It looks like it's full of small touches that aim to encourage teamwork, even if that's just sailing from one place to another. The sailor at the wheel needs direction from both a map-reader below deck and a lookout on-deck - or in the crow's nest - because they won't have a map and can't see past the sails in front of them (although we already knew that part). And once on solid land, whoever has the crew's treasure map has to physically turn the map around and show it to the others if they want to know where the booty is buried. I approve of this neat trick.
In a more general sense, I also appreciate small chats about fine design details like this. The E3 trailer, while effective, still felt like a bunch of people forcing themselves to laugh on the high seas. But this back and forth between designers Shelley and Andrew Preston has its feet planted firmly on the ground and discusses things a little more specifically. Even if it does so in some sort of giant toy pirate tavern.
Sea of Thieves is coming out for Windows 10 (booooooo), we think at some point early this year.