Secret Spaces is a relaxing urbex-gardening mashup
Freefalling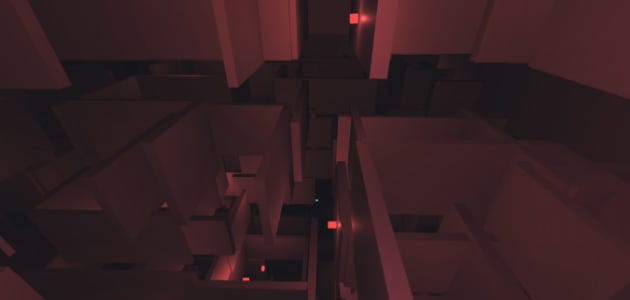 Here's a thing that looks relaxing: Secret Spaces [official site]. In it, you descend through an infinite block-y tower, growing vines to climb on and seeds to ride on to help you explore. Fall damage is the only threat (and you can pick up Salvefruits to block that too), so you can concentrate on poking around the procedurally-generated spaces to try and find artefacts and gardens of "strange glowing flora". So like urban exploration, but with more plants and a synthy soundtrack.
After months in alpha, the full version is out now on itch.io for $8 (just over £6), with a proper storyline, new artefacts and actual sound mixing "so you can actually play the game with headphones on and not die". Yep, that'd help.
"Plant strange glowing flora, navigate treacherous concrete cliffs, and search deeper and deeper for the one who left you behind. Harvest and grow plants to aid your descent -- climb on vines, ride on glowing seeds, and plant flowers too strange to name. Interact with the Tower directly and indirectly -- your every action has an impact on how the world generates moving forward"
I like the idea of just sinking into it for an hour and seeing what I find. The towers are fairly sparse by the looks of it, which *should* make finding something feel exciting. It reminds me a teensy bit of very early Minecraft builds: you just jump in with no idea what to do and find something that interests you.
Here's the trailer: