Seismic: John Carmack Officially Leaves id Software
Into the Rift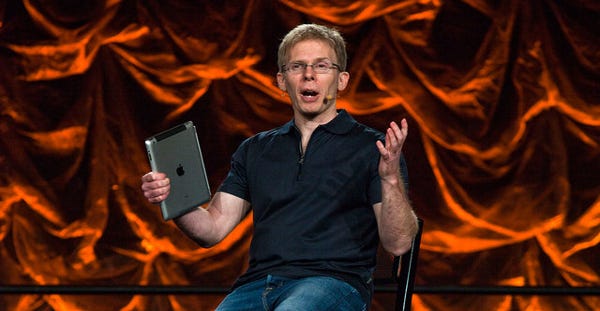 Shock! Awe! Implausibility! Ceaseless insanity! Cats marrying dogs, oceans boiling into a deliciously apocalyptic fish stew!
OK, yeah, actually none of those things. We all probably should've seen this coming from a mile away. Earlier this year, John Carmack became Chief Technology Officer at VR megalith Oculus Rift, a position that didn't seem to leave much time for a second full-time gig at the studio that pioneered both first-person shooters and the practice of naming game companies after Freudian psychological concepts. Bethesda, however, insisted that Carmack would be just dandy pulling double-duty. Predictably, that was a rather significant enhancement to the truth.
IGN got details from id studio director Tim Willits, who explained:
"John Carmack, who has become interested in focusing on things other than game development at id, has resigned from the studio. John's work on id Tech 5 and the technology for the current development work at id is complete, and his departure will not affect any current projects. We are fortunate to have a brilliant group of programmers at id who worked with John and will carry on id's tradition of making great games with cutting-edge technology. As colleagues of John for many years, we wish him well."
Carmack, meanwhile, elaborated on the reasoning behind his decision via Twitter:
"I wanted to remain a technical adviser for Id, but it just didn't work out. Probably for the best, as the divided focus was challenging."

"If they don't want me to talk on stage at Quakecon next year, we'll just have to fill up the lobby like the old days. :-)"
While not exactly the most unpredictable turn of events, this is still definitely the end of an era. Carmack's been id Software's signature transcendent-brain-restrained-to-our-mortal-plane since the company's earliest days. From his groundbreaking/quaking engines to his legendary hours-long talks at QuakeCon, he was - at times - very nearly the face of id Software. A strange sort of relentlessly un-glamorous geek idol rockstar.
Carmack's resignation comes in the wake of the departure of id's longtime CEO, Todd Hollenshead, earlier this year. Between that and id's eerie radio silence on Doom 4, it's quite obvious that major change is afoot. It's tough not wonder, though, if it's change for the better or a turn for the worse.