Sins of a Solar Empire: Rebellion overhauls engine
A fine freebie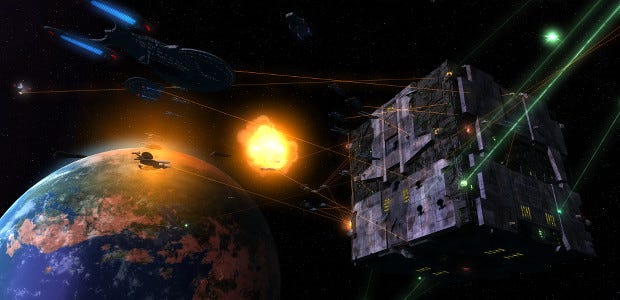 Stardock and Ironclad Games have launched a surprise update for Sins of a Solar Empire: Rebellion [official site], their sparefaring RTS from 2012. The update brings engine improvements to let the game use more memory so it can crash less, it reduces stuttering in large battles, fixes AI bugs, supports modern high resolutions, adds options for higher-quality textures and shadows, and it generally makes Rebellion better. Not bad for a game that's almost five years old. Rebellion is on sale for a few days too, with a hefty 75% discount.
Stardock point these out as the highlights of version 1.9:
Memory Optimizations
Concern yourself with space battles instead of space restrictions! Previously, Sins: Rebellion's 32-bit process was unable to exceed 2 GB of RAM usage. New adjustments in v1.9 allows the game to use up to 4 GB of RAM, which reduces crashes and lets modders focus on their creations instead of worrying about hitting the 32-bit limit. Any mods that already exist will benefit from the engine improvements with an overall better look and performance.

Graphics Optimizations
Sins: Rebellion gets a face lift in v1.9! The improvements to the memory system have allowed for a new "Extreme" texture setting that makes the game look better than ever. The difference is noticeable in everything from the ships and the planets all the way to shadow rendering. The UI will look incredible on 4K monitors now thanks to user interface scaling.

Late Game Optimizations
Reduced stuttering and lag during late game battles let you focus on the fight! The Iron Engine has been improved so you can enjoy large fights without worrying about issues. The game's AI has also received some updates, making for more interesting challenges and gameplay.
Good stuff! The full patch notes for update 1.9 are over here.
Stardock released new DLC for Rebellion in 2016 so it's not entirely surprising to see them revisit it. However, seeing as some recent 'HD' re-releases have changed about as much as this update yet been sold as separate games, this is great.
Rebellion is discounted on Steam to £7.50/10,00€/$10.00 until Friday.