Star Wars Jedi Survivor: How to open the locked door in Pyloon's Saloon
Here's how you can get inside the back door in Pyloon's Saloon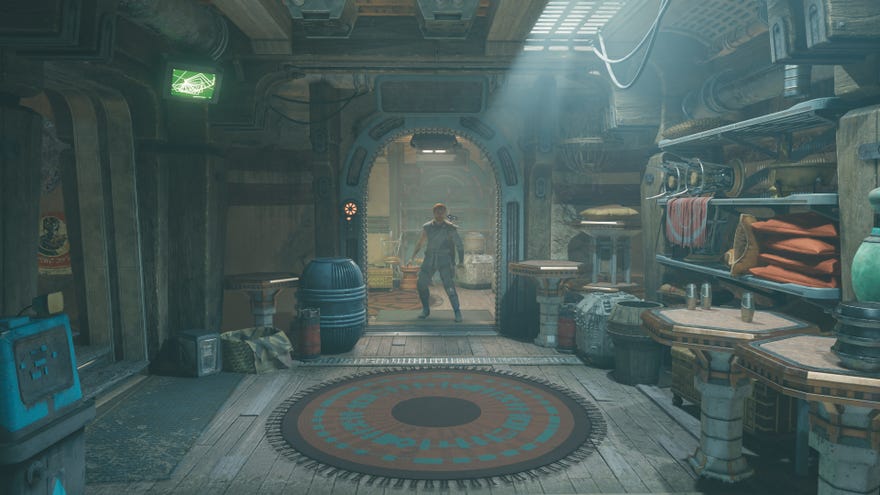 How do you open the locked door in Pyloon's Saloon in Jedi: Survivor? If you've checked the map at all while inside Pyloon's Saloon in Star Wars Jedi: Survivor, you may have seen that there's a locked door near the back of the saloon housing a couple of enticing collectibles. But for all Cal's Jedi prowess, neither he nor BD-1 are capable of opening this pesky door. Perhaps even Darth Vader himself would have been thwarted by this static, stoic door. In fact he may have more trouble than Cal does in the end, because the answer lies in making conversation with a particular Pyloon's Saloon regular. Somehow I don't see Darth Vader doing that.
If you're chomping at the bit trying to open this door and get at the shinies within, you're in the right place. Below we'll explain how to open the door at the back of Pyloon's Saloon, and what you'll find there.
Jedi Survivor: How to open the door in Pyloon's Saloon
To open the locked door in the back of Pyloon's Saloon, you must speak to Moran on seven separate occasions. Moran is the haughty blue-skinned individual at the bar nearest the door. At first he's quite standoffish with Cal, blaming him for stirring up trouble with the Bedlam Raiders near the Saloon. But keep talking with Moran and he'll open up a bit more about his background.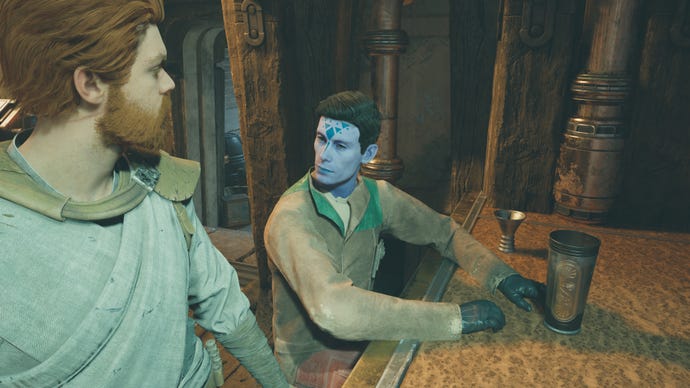 It's worth noting that you can't just repeatedly talk with Moran to make this quicker - the discussions need to be on different occasions. You can, however, prompt a new "occasion" by going to another region (i.e. outside the Saloon) and then coming back again.
Talk with Moran enough times, and eventually you'll start a conversation which begins with Moran apologising for being brusque with Cal in their last conversation. Moran explains that he too has lost people, and that Monk (the bartender) was kind enough to allow Moran to store some of his possessions in the back room. Moran then invites Cal to take a look at the room and pick anything of value that he likes from there.
After this conversation, you'll find that the locked door can magically be opened! Inside is a chest on the left containing the Eerin Siinaa music track which can be played at the Saloon; and a Databank entry on the right which is given when you have BD-1 scan Moran's possessions. Not very respectful of private property, but there you go.
---
That's all there is to the pesky problem of the locked door in Pyloon's Saloon! If you're looking to hunt down other collectibles across the planet, look no further than our Jedi: Survivor Koboh collectible locations guide. We also have another guide on Shattered Moon collectible locations if you've moved on from Koboh; as well as our overall Jedi: Survivor walkthrough and our guide on the very best lightsaber stance in Jedi: Survivor.