Stronghold 2: Steam Edition brings back multiplayer
Smash some walls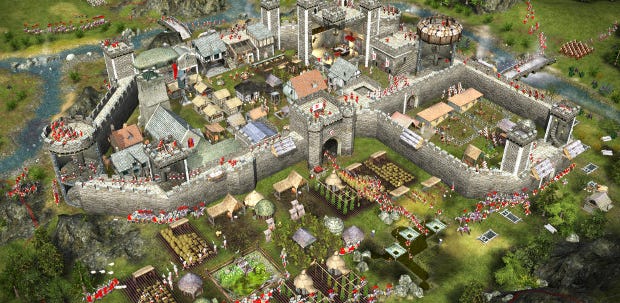 Launched in 2005, Stronghold 2 [official site] is a castle sim that tasks you with managing a medieval fortress where you can throw fancy parties, organise jousting tournaments, bully peasants and duke it out with other lords over who gets to rule the land. Last week, it popped up on Steam in a new edition that reintroduces multiplayer while adding achievements, new maps and more. Best of all: it's free if you've got the original.
Until last week, the only way to get Stronghold 2 on Steam was inside the Stronghold Collection, but it didn't have multiplayer support after Gamespy's demise. Or at least it didn't have official support, though with some faffing around you could play using GameRanger. That's a pretty good reason to upgrade, but the Steam Edition also introduces plenty of extra features.
Achievements, Steam cards, six new maps and improved graphics round out the enhancements. And while the original supported the creation of custom maps, you can now use the Steam Workshop to share and download them.
Despite being a bit ambivalent about castles ever since I was attacked by a ferocious wasp in one 25 years ago, I've got fond memories of Stronghold 2. It's part RTS, part sim, part economics game, and while each individual element has been done better since, Stronghold 2 does a good job of combining them.
Stronghold 2: Steam Edition is out now on Steam, obviously, with a 15% launch discount. Until October 12, you'll be able to pick it up for £10.19/$12.74/€12.74, but it's a free upgrade if you already own the original game on Steam.