The Elder Scrolls Online launches week-long trial
Keep scrollin' scrollin' scrollin'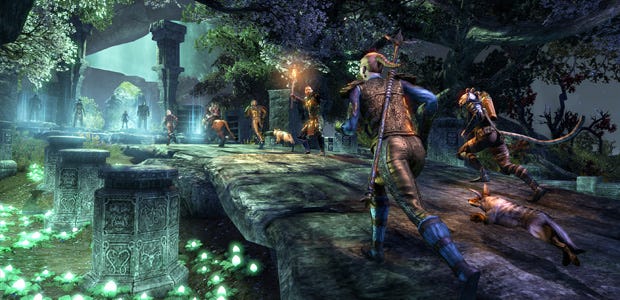 The Elder Scrolls Online [official site], the other MMORPG with orcs and elves, has just launched a week-long full-game free trial. I know, I too half-remember it going free-to-play but no, it has only dropped mandatory subscriptions. I've little interest in the world of The Elder Scrolls myself, our boy Brendy was not a fan when it came out, and Cobbo last year found it still too bland, but some others folks whose opinions I also respect do find things to like in TESO so... I might have a look-see during this trial.
The free trial started at 3pm today (hey, that's minutes ago!) and will end up Tuesday, April 18th at 3pm. It offers the full base game but not any of the DLC expansion bits. Players will also get a little spending money for the microtransaction store - enough to buy one of the cheaper costumes. Go on, buy yourself something kinda-nice-but-not-too-fancy.
Progress from the trial will be saved if you fancy buying the game in full afterwards. TESO is on sale for keepsies too, down to £6.60 for the regular version and £19.99 for the Gold Edition which includes several expansions.
Swing on by Steam for the trial on Windows and Mac and all that. Trials aren't usually rare or special for MMORPGs but TESO doesn't have one as standard.
Our Alec recently had a look at the next TESO expansion, which will revisit the lands of Morrowind. You'll have to wait until June to follow in his footsteps and wander Vvardenfell remembering when you were so young and the sunsets glowed with the excitement of an evening to come not the quiet dread of the dark.