The Last Of Us Part 1's "in-progress" mod reimagines the game as a beautiful FPS
PlayStation's overdue answer to Halo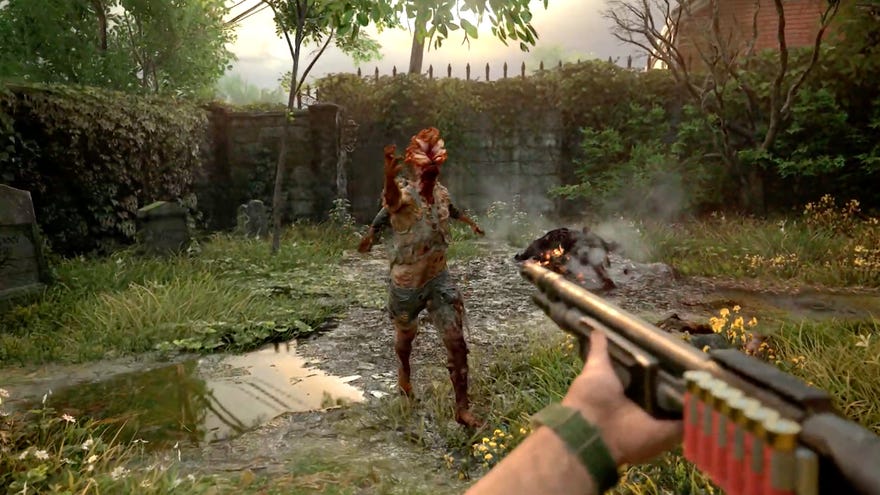 Wonky launch woes aside, The Last Of Us Part 1's PC release is a net positive. A new audience can now experience one of PlayStation's best exclusives, but even better, modders can get their hands on Joel and Ellie's trek, rejigging a familiar story in new ways. There aren't too many exciting ones available to download just yet, but one "in-progress" mod reimagines the game in first-person, and it's stunning.
The video below, from YouTube channel Voyagers Revenge, showcases the first-person mod and promises more updates to come. It places the camera into Joel's head, effectively transforming The Last Of Us' third-person action-horror experience into an FPS game. All of the settings are on the Grounded difficulty (the hardest one) except resources, allowing the player to have an abundance of ammo and crafting materials for "aggressive gameplay."
Despite playing on Grounded, the video makes it seem pretty easy. Maybe it's the magic of video editing, maybe whoever's playing is just an expert survivor, or maybe a first-person view really does help with aiming. Regardless, this first-person Joel rampages through both bandits and clickers with an ominous, patient, T2-Terminator type of stroll; the TLOU experience I remember had me stealthing and stabbing my way across the apocalypse on Normal difficulty.
I've yet to venture through The Last Of Us' remake or the HBO show since I still remember the original pretty clearly, but perhaps this upcoming mod will be the thing I need to return. The game's gorgeous lighting and environmental design somehow look even crisper in first-person. Darker torchlit sections have a creepy Metro-esque effect, making you stalk through corridors step-by-step. Otherwise, the game's outdoor greenery would comfortably fit inside a cosy walking sim, no problem. Hopefully, there'll be a mod for that too.
Certain animations - like the one where you repeatedly help Ellie climb over a ledge - pull you back into a third-person view, and melee combat looks a little off as you can't really see Joel's hands or the patchwork weapons he's holding. Apart from that, though, the game looks perfectly readable from this new perspective.
As mentioned earlier, The Last Of Us Part 1's PC port has run into hot water since its launch due to mouse jitters, performance woes, and bugs aplenty. It did lead to some pretty funny bugs (by which I mean a thick-eyebrowed Joel), although Naughty Dog have been working to fix these issues in several patches over the last few weeks, and last Friday's patch did more of the same.