The Witcher 2 Update: Oh Dear, Updated!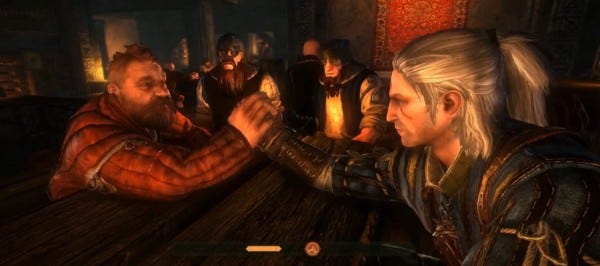 UPDATE: Hurray, made some progress. Seem to have unblocked the storyline and carrying on towards chapter two. To clear up some misconceptions from the comments below: I'm playing the retail version patched the same as anyone who would have bought the game today. My saves from the preview build do not work, and I am not using them - or I'd already be hours into chapter two!
Also, I am talking to CDP directly about this stuff. They are super-helpful, and annoying as it was to not get any early code, I certainly don't bear any silly grudges. This is a huge game for the PC, and I'm just keep the conversation going over here.
There so seem to be some driver issues, too. Take a look in the comments below and you'll see a bunch of updates for people with issues.
The game is clearly going to be patched a whole bunch more, and that's a shame. I'll be reviewing it as soon as I get it finished, whatever state it might be in at that time.