Terrific Titanfall 2 is £25 on Amazon UK
Titanic price cut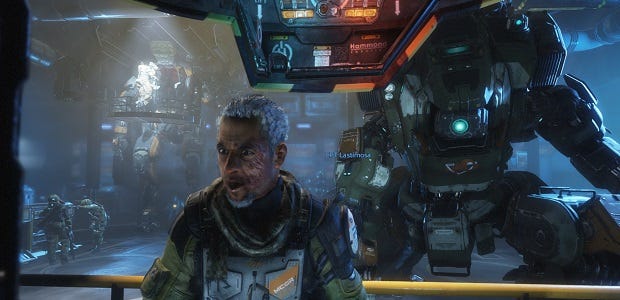 Twenty five quid! Just three weeks ago, at launch, Titanfall 2 [official site] was twice the price on Origin. I'm always wary of telling people whether I think a game offers "value for money" because the value of forty quid is entirely relative to how many quids - or cash of another currency - a person has. When I reviewed Titanfall 2 I did mention the pricetag though because I was keen to recommend the game for its singleplayer as much as for the multiplayer. If you were unlikely to play online, it felt important to mention that fifty quid was getting you a short (but excellent) campaign.
Now, three weeks after release, Amazon UK are selling the game for £25. That gets you an Origin code and plenty of bot for your buck.
I didn't expect to love Titanfall 2 as much as I did. Truth be told, I wasn't even sure I'd like it at all. The first entertained me for a while but I rarely play multiplayer FPS games long enough to get invested in them, or even particularly good at them. Titanfall 2 hasn't exactly captured my evenings either - I've only played multiplayer Titanfall 2 for a few hours since I reviewed it - but the campaign is so splendid I'm tempted to go back and play it on the hardest difficulty this weekend.
For detailed thoughts, look at my review but also cast an eye back to my early thoughts on the campaign, when I was at MAX EXCITEMENT.
Launching in between two multiplayer FPS big-hitters in the form of EA's own Battlefield 1 and the new Call of Duty probably didn't do Titanfall 2 any favours in the sales department, and there are price-cuts on console as well right now. That may not bode well for future robot adventures.
This is the cheapest price we've seen but keep an eye on our roundup of Black Friday's best PC gaming deals in case anything else crops up, or indeed any offers for other territories. Amazon US does have a sale on the game at the minute, but it's only a ten dollar reduction.