Mon then! Total Warhammer unleashes The White Dwarf
MON THEN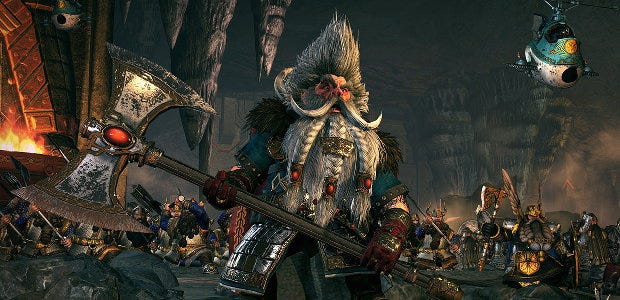 The White Dwarf is not a euphemism. One does not pay a visit to The White Dwarf, pump him, poke him, sit on him, drain him, slurp him, or shake him, unless one wishes to lose an eye, then an arm, another eye, a rib, another rib, yet another rib etc. No, The White Dwarf is Grombrindal, a legendary (and possibly mystical) Warhammer warrior, and he's now arrived in Total Warhammer [official site] as a Legendary Hero free for everyone. He was previously given to folks who popped into Games Workshop shops for vouchers but DON'T DO THAT, THAT'S HOW THEY GET YOU.
It's now safe to simply swing by Steam and download The White Dwarf as a new Legendary Lord for the wee fellas.
As you'd expect, he has his own traits and abilities and his own unique quests. These quests slowly kit him out with legendary arms and armour -- the Rune Helm of Zhufbar, the Armour of Glimril Scales, the Rune Cloak of Valaya, and the Rune Axe of Grimnir -- and I'd imagine he's pretty flipping fierce once he's got all four.
That's a bit of a change from his current tabletop incarnation, where he appears to be in his pants.
The Creative Assembly are currently working on a free update adding Bretonnia as a playable faction. They're due to launch alongside a new physical release in February.
For now, admire the technical complexity of this virtual beard: