Warframe announcement expected in TennoCon livestream
And get a rare Warframe with Twitch Prime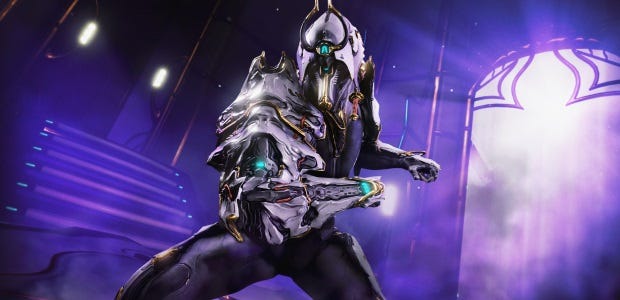 Update: Digital Extremes have confirmed that everyone can get Ash Prime (that handsome fella above) for free. Just link your Twitch account to your Warframe account - details here.
Weird to think that Warframe - that little space-ninja shooter that started out as a struggling developer's last chance - has an official convention now, but it does. TennoCon 2018 kicks off tomorrow, and they'll be wrapping up their first day's festivities with TennoLive, an hour-long developer stream/press conference.
While Digital Extremes will likely announce some new Warframe content, they're also sweetening the deal by giving away Ash Prime (one of the fancy, gold-trimmed Prime Warframes) to anyone with a linked Twitch account that tunes in for at least half of the show.
This time (and place) last year, TennoLive was used to announce the Plains of Eidolon, the first of Warframe's big open-world environments. It's had its issues and largely exists parallel to the game's core space-dungeon-crawling, but it's good fun and an impressive technical showcase. Right now, the smart money is that this show they'll be unveiling the next open-world planet - Venus - which has long been teased, and was the main subject of the developer stream below.
I'm also hoping that they're going to show off some more main story content. Their most recent chapter, The Sacrifice, was fun and dramatic but ended on an enormous cliffhanger. The reward was nice - a self-aware Warframe that you can hop out of for some tag-team action, Titanfall-style. However, the very specialised mods it came with suggests that the next part of the story is taking us outside of the solar system and into conflict with the Sentient, the fourth (and most recently introduced) major enemy faction. What are you hoping for this show?
You'll be able to tune into TennoLive on Warframe's official Twitch channel here. The stream will be starting at 3pm PST, 6pm EST, 11pm BST and Midnight CET. If you still haven't had a chance to get to grip with Warframe, you can get started via our general Warframe guide, or get back on board with our specific Warframe Plains of Eidolon guide.