WH40K: Dawn of War 3's launch trailer airdrops in early
Waaagh!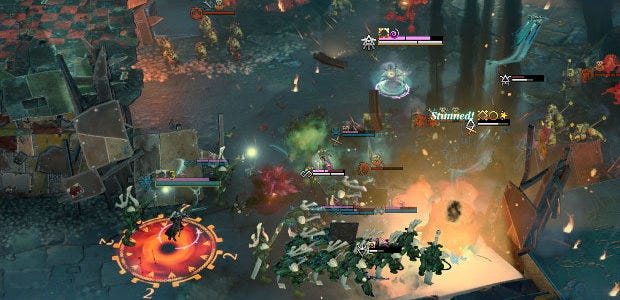 Warhammer 40000: Dawn of War 3 [official site] isn't out until Thursday but heck, if we've already reviewed it, why can't Sega release a launch trailer? Why not follow it up with an announcement trailer? Perhaps they'll even release Dawn of War 2 next. The linear perception of time can do one. The launch trailer shows what will happen when you bring a mirror (or shiny spear) to a war: it'll end up in pieces, just like our flipping timeline. Oh, but do remember the RTS's multiplayer open beta weekend starts today.
So there's a pointy stikk everyone wants. Gotcha.
Fraser Brown was torn over Dawn of War 3. As his Wot I Think concluded:
"There are moments, many of them, during multiplayer and AI skirmishes, where I'm absolutely certain that Dawn of War 3 is the best game in the series, even with its missteps when it comes to cover and fortifications. I could happily continue rambling on about the brilliant faction design or how I still squeal with glee every time I drop a gargantuan beast of an Elite like Imperial Knight Solaria into a fight – you haven't lived until you've witnessed her impossibly huge guns turning an army of Orks into green-red paste. If you're only interested in the campaign, however, then you're unlikely to find as much to get enthused about."
I like a bit of both in my DoW, so I'll certainly give the multiplayer beta a go. It'll start at 6pm today and run until 6pm on Monday. If you want in, you can sign up in advance over here to begin pre-loading or casually stop by Steam after the beta starts.