Warhammer: Vermintide 2 adds mod support, more hats
Splat the rat in a fancy new hat
First-person ratbasher Warhammer: Vermintide 2 today blasted its first content update, following a string of patches with fixes and tweaks. Along with officially launching mod support, the update adds new challenges and daily quests to complete for loot, and boshes in loads of hats, skin recolours, and other cosmetic bits. The mod SDK doesn't include a map editor, sadly, but it does let modders fiddle with game logic, graphics effects, the user interface, textures, and other bits of gameguts, so it'll be interesting to see what people make.
Visit your pal Franz in the keep and beside him you'll find a skully book presenting tasks and offering rewards. Okri's Challenges are one-off, (mostly) long-term tasks: complete all this, craft this many items, murder one of those enemies in this specific way, do this neat environmental murder in that level... achievement-y sort of tasks.
The book also offers daily challenges, which hang around until you finish 'em then roll in new challenges to fill empty slots every day. My three challenges for today, for example, are to: slay 3 bosses as a party; retrieve 4 tomes; and complete 2 levels as Sienna. The reward is, of course, booty for the persistent grind-o-rama.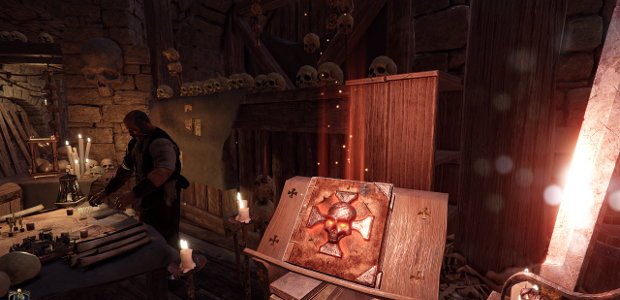 New booty is in too, with over 100 hats, skins, and portrait frames added in the update. The skins seem to be recolours rather than whole new looks but hey, you can customise your warmen a little more. Some cosmetics are exclusive to Challenges, some just come in any old chest.
As for mods, you can easily download 'em through Vermintide 2's Steam Workshop. If you fancy making a mod yourself, start with this guide. Some mods will block players from the persistent progress tracks, mind.
"Since Warhammer: Vermintide 2 contains progression systems, we cannot allow mods that 'cheat' or make the game easier in ways that go against our design philosophy," developers Fatshark say. "The type of mods we will allow (sanctioned mods) are quality of life mods, certain UI mods and similar."
To stop that, they're whitelisting mods on a case-by-case basis, which will let them be used in the main game on the 'Official Realm'. Mods they haven't checked or which they disapprove of will only be playable on the 'Modded Realm'.
See the update 1.1 notes for more on all this, and see some of the pretties in this trailer: