Ghost Recon Wildlands' unlock times, Nvidia bits, government complaints, and more
A blast of titbits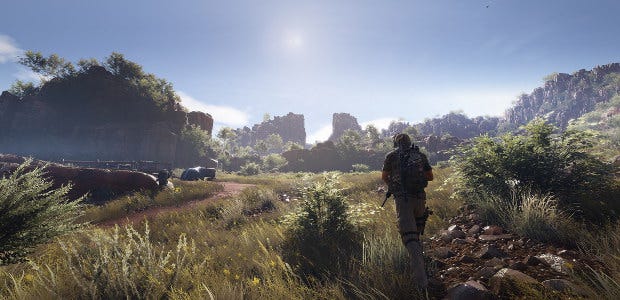 With Ubisoft's Tom Clancy's Ghost Recon Wildlands [official site] unlocking tonight, here's a newsblast rounding up a few odds and ends:
1) We shan't tell you Wot We Think at launch, as we only received code today
2) We will aim (aim, like aiming a gun) to have something up as soon as possible and a review by the end of the week
3) Pre-loading is now live for pre-orderers (never pre-order etc.) but when it actually unlocks and launches is determined by where you buy it
4) Nvidia are blabbing about their fancy Nvidia-exclusive graphics effects
5) Yup, patches have fixed some problems since the beta
6) The government of Bolivia have officially protested Wildlands' portrayal of their country as lawless and ruled by druglords
Onwards to details!
1) Given that Wildlands is a huge open-world game with co-op t'boot, and we've only just got access to it, we can't reasonably deliver a full Wot I Think by the time it launches.
2) But we will try to toss some thoughts out as they start to coalesce, then follow-up with a proper Wot I Think later in the week. For now, hey, Brendan and Graham's co-op beta thoughts are probably not too far off.
3) If you buy Wildlands directly from Ubisoft, it'll unlock timezone-by-timezone at midnight local time. The Steam release, on the other hand, will come globally at 5am UTC on Tuesday, March 7th. That's 5am in the UK, 6am Central European Time, midnight EST, 9pm on the 6th in PST, already out in Australia, and so on. Sounds weird, but that's what Ubisoft say.
4) Ubisoft have again teamed up with Nvidia to add some fancy graphical bells and whistles that'll only be available to players with Nvidia video cards. Nvidia GameWorks gubbins better shadows through HBAO+, volumetric lighting, fancier simulated grass with physics interactions, and support for Nvidia's screenshot tool Ansel.
Update: Nvidia have got in touch to tell us: "Turf Effects, HBAO+ and Volumetric Lighting work an all DirectX compatible GPUs. Not just Nvidia GPUs."
Have a look in this trailer:
If you've got an AMD card, bad luck! It's still wild to me that, over twenty years since consumer-grade 3D cards launched, we still have manufacturer-exclusive features. I understand that Nvidia put staff and resources into adding all these but sheesh, it's still a bummer.
5) That VG247 rabble have word on patches which have brought changes like improved stability and networking. Given that we're downloading it on PC anyway it's perhaps not a huge deal but hey, those are things that have changed since the beta. Some early impressions claim that driving and shooting have improved too,
6) The Bolivian government have formally filed a complaint with the French embassy over Wildlands' portrayal of Bolivia, Reuters reports. Ubisoft themselves say the near-future Bolivia of Wildlands "has been turned by the vicious Santa Blanca drug cartel into a narco-state", a place so bad that US Army operatives invade to shoot all the naughty drugmen. The Bolivian government seem not so keen on that. They've asked the French government to intervene, Reuters say, and think they have a case for legal action.
Ubisoft responded to Reuters by pointing out that it's "a work of fiction" and claiming that Bolivia was chosen as a setting because of its "magnificent landscapes and rich culture." Mate, come on, stop at the 'fiction' point and don't try to shamelessly pretend it's a compliment- oh no, there's more.
"While the game's premise imagines a different reality than the one that exists in Bolivia today, we do hope that the in-game world comes close to representing the country's beautiful topography," Ubi added in their statement. I don't think that flattery will fly.
I can certainly see why the Bolivian government are unhappy with this. The premise of Wildlands is jingoist nonsense in the classic Clancy way. Look at the garbage live-action commercial on television and in cinemas. Ubisoft also funded a documentary about Bolivia's actual real drug problems to promote the game. But Wildlands is a work of fiction, and raising the idea of legal action seems a bit silly. Sorry that one of the few portrayals of your country most people will see is such trash but so it goes.
That's your lot. Newsblasted blasted. Titibts tattled. Games on.