Wolfenstein 2's Gunslinger Joe DLC dives out
For freedom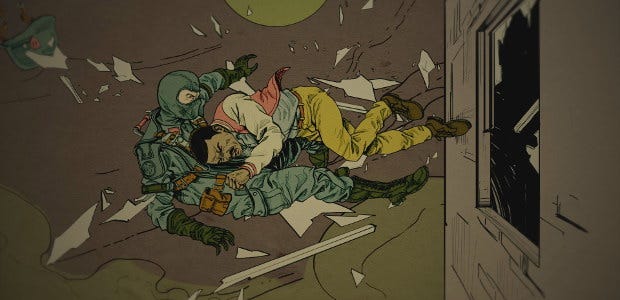 Wolfenstein 2: The New Colossus has been out for nearly two months, which means it's Wolfentime for the first proper episode of DLC. Episode 1 of The Freedom Chronicles launched overnight, and follows the exploits of Gunslinger Joe. He's a former American football quarterback who's mad at the Nazis for making him play proper football, which seems like a pretty tame origin story by Wolfenstein standards.
Here's how the official blurb pitches it:
"Play as the unbreakable Joseph Stallion, a former professional quarterback forced to play soccer by the Nazis! Using your Ram Shackles ability, smash through hordes of Nazi soldiers from the ruins of Chicago to the vastness of space!"
I still haven't gotten over the name 'Gunslinger Joe', but Joseph Stallion might be even better. If only you could play as his pals, Bullet-toting Bob and Peashooter Pete. (I really wanted to mention five-iron Ian, though sadly I just learned that would reference a golf club rather than a gun. I have wielded neither.)
I gather from the Steam user reviews that the DLC is about 2 hours long, and puts more emphasis on frontal assaults than stealth. That last part is fine with me, because my attempts at stealth in the main game go much the same as Adam's - "Maybe I'm crap at sneaking, but I barely managed to stay hidden for much longer than the first encounter with an enemy in any area. Crouch, squat-walk, axe to the back of the knee, neck-snap, ALARM ALARM." Alec might be disappointed though, who's found more success with his more patient approach to Wolfenstealth.
Two more episodes of the Freedom Chronicles are due in January and March, with marginally more sensible sounding protagonists:
"The Diaries of Agent Silent Death: January 30 - As ex-OSS agent and assassin Jessica Valiant, infiltrate Nazi bunkers in California and discover the secrets of Operation San Andreas!

The Amazing Deeds of Captain Wilkins: March 2018 - As the US Army's renowned hero Captain Gerald Wilkins, embark on a mission to Nazi-controlled Alaska to dismantle Operation Black Sun!"
Wolfenstein II: The Freedom Chronicles - Episode 1 is available on Steam for £7.99/$9.99/€9.99. If that's not enough freedom for you, you could grab the season pass for £17.99/$24.99/€24.99 instead, which includes these three episodes plus the bonus Episode 0.