4
Best PC gaming deals of the week
Free Killer is Dead and much more
As we hurtle ever closer to the monolith of international discounts that is Black Friday 2017, we've got time for one more weekly roundup of the very best deals you can find on the internet right now. With that in mind, that's why I'm here – to bring a bunch of the best ones straight to you. Read on and maybe you'll find something ideal. After that, you can check out our post covering all other PC gaming Black Friday deals, which will be updated daily throughout the next fortnight.
As usual, we've got deals that'll work in the UK, deals that'll work in the US and some deals that will work in both the UK and US, as well as presumably many other places. Let's get started.
UK & US Deals
Humble has launched its Fall Sale this week, with a slew of discounts across games from all walks of the industry. You can also get a free copy of Killer Is Dead for a limited time, so grab that one while you can. In the meantime, here are some highlights:
Grand Theft Auto 5 for £19.99 / $29.99
Rogue Legacy for £2.29 / $2.99
Darksiders Franchise Pack for £8.99 / $9.99
Resident Evil 7 for £19.99 / $29.99
Hollow Knight for £7.25 / $9.89
Metal Gear Solid 5: The Phantom Pain for £16.74 / $13.39
L.A. Noire Complete Edition for £7.49 / $8.99
Outlast 2 for £11.49 / $14.99
Event[0] for £8.99 / $11.99
Metal Gear Rising: Revengeance for £4.99 / $7.49
Volgarr The Viking for £1.59 / $1.99
Homeworld Remastered Collection for £9.17 / $11.89
Killing Floor 2 for £9.99 / $14.99
Squad for £20.99 / $27.99
Grim Dawn for £6.79 / $8.49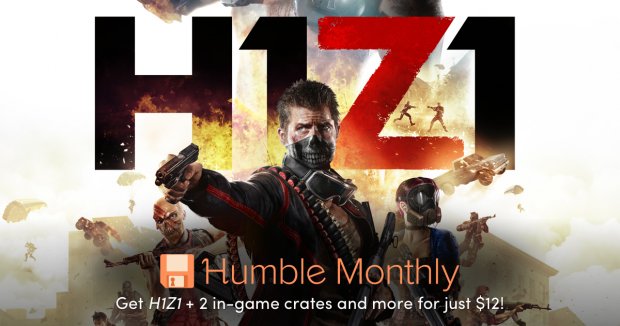 Before we begin all of the Black Friday madness, here's a nice reminder that Humble's Monthly offering has changed over to a fresh set of games this month. Signing up now for $12 / £10, you'll get instant access to H1Z1 as well as some in-game content and a stack of Steam keys headed your way at the end of the month. If you want to cancel or pause your membership after this month, that's fine too.
H1Z1 with in-game content for $12 / £10 with Humble Monthly
This week's GOG weekly sale features some of Double Fine and Daedalics finest wares, which is clearly just a very good excuse for me to mention once more how you should own at least one copy of Grim Fandango Remastered because it's just that good.
Here are some highlights of what else you can get if you like:
Full Throttle Remastered for £7.39 / $10.04 / €10.09
Day of the Tentacle Remastered for £3.79 / $5.09 / €5.09
Grim Fandango Remastered for £1.99 / $2.99 / €2.79
Broken Age: The Complete Adventure for £3.09 / $3.99 / €3.99
Psychonauts for £0.79 / $0.99 / €0.89
Shadow Tactics: Blades of the Shogun for £26.29 / $29.99 / €30.09
Randal's Monday for £3.09 / $3.99 / €3.99
Gomo for £0.59 / $0.79 / €0.79
Holy Potatoes! We're in Space?! for £5.99 / $7.49 / €7.49
Deponia 4: Deponia Doomsday for £7.49 / $9.99 / €10
Massive Chalice for £1.59 / $1.99 / €2.09
Double Fine and Daedalic titles in GOG Weekly Sale
GamersGate has launched its Black Friday sale early, featuring a litany of exclusively digital download versions of games, mostly Steam keys. There are some very decent discounts on good games here including Dark Souls 3, Observer, Space Engineers, Layers of Fear, God Eater 2, and more. Even Jalopy makes an appearance.
Black Friday sale from GamersGate
Perhaps one of the most under-appreciated horror games of the year so far, The Evil Within 2 saw its first major discount this week in both the UK and US. The game can be yours for £30 or $40 in your respective territories.
The Evil Within 2 on PC for £29.99 from Amazon UK
The Evil Within 2 on PC for $39.99 from Amazon US
With the release of the 'Definitive Edition' of Pillars of Eternity and the sequel getting closer and closer, it's a better time than ever to jump on board this franchise. Especially since you can pick up the game and all its DLC packs for extra cheap at GOG right now.
Pillars of Eternity series from GOG
UK Deals
If you have a particular desire to have your own personal robot AI buddy living with you and listening to your every word 24/7, then good news! For Black Friday, Amazon has discounted its Echo device by £20 and its smaller sibling, the Echo Dot, by £15. While stock lasts and for a limited time and all that.
Amazon Echo for £69.99 from Amazon UK
Amazon Echo Dot for £34.99 from Amazon UK
Amazon's early Black Friday offers this weekend include three models of this Toshiba 4K TV set with massive discounts. These are all the 2017 models, too, so if you're looking for a 4K TV on a budget, you can get one for as little as £329.
Toshiba 43U5766DB 43-Inch 4K TV for £329 from Amazon UK
Toshiba 49U5766DB 49-Inch 4K TV (2017 Model) for £379 from Amazon UK
Toshiba 55U5766DB 55-Inch 4K TV (2017 Model) for £439 from Amazon UK
For those of you out there with families, be aware that as part of the site's Black Friday offers, you can save some cash on a 'Kids Edition' of the Fire 7 or Fire HD 8 tablets right now. That purchase includes a bumper case for the tablet as well as Amazon's guarantee that if the device gets broken at any point, they'll replace it with a new one free of charge. The Fire 7 is down to £70 from £100 and the Fire HD 8 is reduced to £90 from £130.
Fire 7 Kids Edition tablet for £69.99 from Amazon UK
Fire HD 8 Kids Edition tablet for £89.99 from Amazon UK
US Deals
One of the very best TVs you can get your hands on these days – LG's stunning 4K OLED set – is currently down to its cheapest ever price over at Amazon right now, just in time for Black Friday. It's still going to cost you a whole lot of money, but it's nice to see the price slip down a decent amount – it's currently $1596.99, for a limited time.
LG OLED55B7A OLED 4K TV for $1596.99 from Amazon US
NewEgg is getting involved with the early Black Friday deals madness that's currently sweeping every online retailer around. There are new deals being added every day with this one, but you can currently grab 18% off selected Corsair RAM, plus nice price cuts on Acer laptops, gaming headsets and more.
Pre-Black Friday deals from NewEgg
Best Buy's got a great clearance deal going right now on a 12-pack of eneloops this week. For those not in the know, eneloops are a brand of rechargeable batteries that have a tendency to last for ages. They can be used anywhere that regular AA batteries are and this is some great value for what it is.
Panasonic eneloop rechargeable batteries (12-pack) for $19.99 from Best Buy
If you happen to need the charging pack as well, you can grab an 8-pack of eneloops with the charging pack as well for $19.99 at Amazon.
Panasonic eneloop Power Pack for $19.99 from Amazon US
Okay, we're done for another week. Keep in mind that deals, prices and availability can change at the drop of a hat, so apologies if you miss out on something you wanted. I'll be over at Jelly Deals, scouring the world wide web for more deals. Feel free to visit, or follow us on Twitter and give us a like on Facebook.
Did you know that Jelly Deals has launched a newsletter? It lets us bring the best deals directly to you each day. Subscribe here, if that seems like your kind of thing.