AMD unveil new three free games bundle for RX 590 and Vega graphics cards
DMC 5, The Division 2 and Resident Evil 2 are the new AMD freebie crew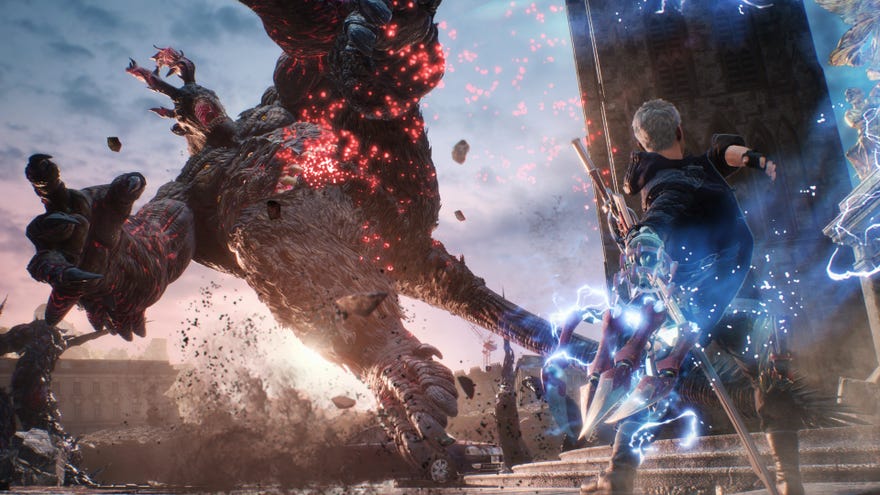 It was a sad day indeed when AMD's three free games bundle came to an end at the beginning of November (bye bye, free Assassin's Creed Odyssey), but the good news is that today marks the start of a brand new, and arguably even better, AMD games bundle to celebrate the launch of their new Radeon RX 590 graphics card. If you fancy grabbing free copies of Devil May Cry 5, The Division 2 and the shiny new Resident Evil 2 remake, read on.
This bundle works a little differently than the last one, as you can only get all three games when you buy either the RX 590, the Radeon RX Vega 56 or the Vega 64 - all of which are among our graphic card champions. If you're in the market for either an RX 580 and RX 570, you only get a choice of two of those games. You can pick which ones you get luckily, but it's still not quite as good as getting the full set.
Still, two free games are better than none at all, and they're also arguably more enticing than what's going on over in Nvidia land as well, where selected cards (the GTX 1060, GTX 1070 and GTX 1070Ti) only come with a free copy of the now three-month-old Monster: Hunter World.
Of course, buying one of the eligible AMD graphics card now won't get you early access to your games of choice. You'll still have to wait until they all come out on their official release dates (that's January 25 for Resident Evil 2, March 8 for DMC 5 and March 15 for The Division 2), but think of it as a nice little post-Christmas pick-me-up for when your Steam library is looking a little less stuffed with all those sale leftovers you'll never get round to playing (come on, we've all been there).
You needn't rinse your credit card straight away to take advantage of the new bundle deal, either, as the promotion period lasts from November 15 until April 6 2019 (or sooner if AMD's supply of codes runs dry, whichever's first).
Remember, you'll find all the best graphics card deals going on right now from AMD and Nvidia alike over in our dedicated Cyber Monday graphics card deals hub, so why not head over there to see if you can grab yourself a bargain? As mentioned, Nvidia's Monster Hunter deal is still in full swing at the moment, which may well be more your thing if spending your time slicing and dicing through hordes of dinosaurs sounds more appealing than doing the same to hordes of zombies and demons. Whatever floats your graphics card boat, really. Wherever your allegiances lie, there are savings aplenty to be had by all.