Resident Evil 2 Remakers Announce Own Survival Horror
Boo!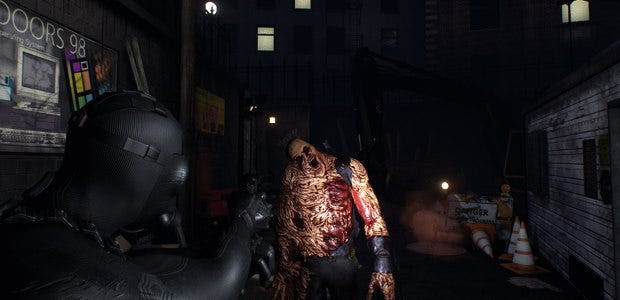 The survival horror fans who spent years unofficially remaking Resident Evil 2 (until Resident Evil owners Capcom coughed and pointed out they were making one themselves) have announced their own spook 'em up. Unsurprisingly, Invader Studios' own Daymare: 1998 [official site] looks an awful lot like ye olde '90s survival horror. If you squinted, it might even look just a touch like Resident Evil 2, with oogly-booglies shambling around a city in chaos. They've got a former Resident Evil artist sketching monster designs too. Here, have a look at the announcement trailer:
Not knowing Resident Evil 2 too well myself, I'd probably believe that was Raccoon City if not for the player character and monster design. Invader don't say but I'd be surprised if they're not building upon work they did for Resident Evil 2 Reborn.
We've not much to go on, but Invader but do say to expect "hardcore survival mechanics and many connections with the beloved old school survival horror games and '90s landmark brands." So limited ammo, limited save points, and so on. It's all a bit vague but I guess all you need to know is: they're really into The Old Days, and this is meant to be like The Old Days. Janky cheap'n'cheeryness would be perfectly in tone with the genre.
Invader have drafted Satoshi Nakai, who drew monster concepts on Resident Evil - Code: Veronica and Resident Evil 0, for monster design but the baddie in the trailer looks... fine? Bit silly? Like a baddie I'd expect in a '90s Resident Evil game, I suppose.
No word yet on Daymare: 1998 will arrive. It'll be on Windows.