Double Fine's Hack 'N' Slash Is Not Actually A Hack 'N' Slash
Double meaning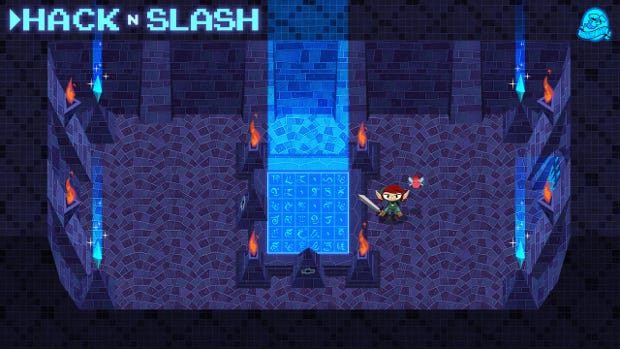 Oh Double Fine, you clever masters of language's darkest arts, I see - and indeed, understand the true ramifications - of what you did there. You said a thing that sounded like one thing, but it actually meant something entirely different. How cunning, how deceptive. Language, my friends, will never be the same. The Amnesia-Fortnight-born Hack 'N' Slash isn't a top-down action-packed hack-and-slash at all. Instead, it's an adventure puzzler about hacking - like, with computers and stuff. What's next? An RPG about rocket-propelled grenades? A Metroidvania that's actually Metroid and Castlevania duct-taped together? A shooter that's about shooing-away Ters, whatever those are? This is a brave new world.
Here's Double Fine's brief, rather cryptic description of the Indie-Fund (and everyone else ever) funded adventure:
"In Hack 'n' Slash, a young elf uses her computer hacking skills to cheat her way through a classic action/adventure game. By subverting old-school gaming tropes with unique hacking mechanics, Hack 'n' Slash allows non-programmer players to experience that same sense of mystery and discovery."
So it sounds like it kind of takes the same tact as empowerment-through-programming experiments like Quadrilateral Cowboy, just from a very different angle. As has often been the case with Double Fine's recent work, it sounds like a tantalizing mixture of tried-and-true tropes with a succulent sprinkle of freshly diced crazy.
For a small taste, you might consider heading to Hack 'N' Slash's website and downloading the giant JPG image that currently comprises its entirety. Embedded is a kind of puzzle that reveals, among other things, a message from an in-game character, some music, and a short video. Fans, however, are still trying to wring more secrets from its nefarious web of encryption, so you'll probably want to have a look.
Hack 'N' Slash will release sometime during the first half of 2014. As Double Fine points out, it will have algorithms.