Elden Ring's ray tracing update is out – here's how it looks and runs on PC
No longer ray-denless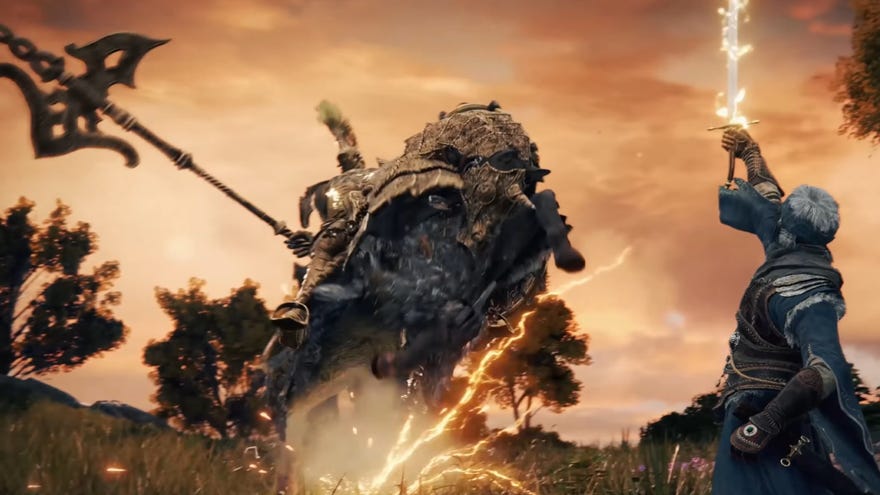 Surprise! The long-promised patch that brings ray tracing to Elden Ring is here, over a year after release. There's much more in the version 1.09 update besides – the patch notes list plenty of balance changes and bug fixes – but given the sheer amount of time the new ray tracing features have been in the works, not to mention the fact that Elden Ring has never exactly been an exemplar of technical reliability, I wanted to focus in on 'em and see what performance is like on PC.
There are four RT quality levels to choose from, though in typical Elden Ring UI fashion, the new setting doesn't explain what kinds of effects it enables. Dataminer Lance McDonald reckons it's just shadows and ambient occlusion (the darkening effect applied to objects that are close together), and after playing for a while, I agree with him. Shadows are softer and more naturalistic than they are on the standard Maximum quality preset, and there's no sign of improved reflections of global illumination.
Ultimately, the difference ray tracing makes is far more subtle than eye-exploding. Foliage shadows look better and there's a tiny bit more depth on bricky textures, the latter thanks to the AO upgrade. In the comparison shots below you can also see a touch of added darkening in the corner of the Caelid bonfire room, as well as more noticeable shadows cast by the fallen corpses and our Tarnished lad himself. (Actually Hayden's, since I used his save for this. Without asking. Cheers Hayden.)
Really, though, after a year I was kind of hoping for a more dramatic visual overhaul from this ray tracing update. It's also unfortunate that it didn't come with DLSS, FSR, or XeSS upscaling support, to help numb the pain of the performance cost.
Flicking on even the Maximum-quality ray tracing option won't necessarily bring your graphics card to its knees, but the speed loss is arguably more significant than the fidelity enhancements you get in return. On an RTX 3070 running at 1440p, a combination that maxes out Elden Ring's 60fps cap with Maximum quality, the addition of Maximum ray tracing lowered performance to 45fps on average. That's a 25% loss, and I can't help but wonder if it would be bigger if not for that cap.
For 1080p, I tested with an Intel Arc A750, averaging 59fps on vanilla Maximum quality and 48fps after adding Maximum ray tracing. That's a proportionally smaller loss than the RTX 3070 endured at 1440p, though there were some big stumbles down below 30fps along the way. Dropping to Medium ray tracing fixed this, but somehow still only averaged 49fps.
At the opposite end of the scale, I gave the RTX 4070 Ti a whirl at 4K. This dropped from 60fps to 51fps, again using the Maximum quality preset with Maximum ray tracing. That's playable but also serves to remind that with an upscaler like DLSS, there might not have been a performance loss at all.
I will say that Bandai Namco's new PC system requirements for ray tracing – which you can see in full in those patch notes – are perhaps being overly cautious. Considering the Arc A750 can handle Medium RT effects at 1080p, and that's broadly equivalent to an RTX 3060, I'm not convinced you'd really need an RTX 3060 Ti for Low quality at the same resolution.
Even so, the effects of Maximum are so subtle that I wouldn't give these ray tracing features a full throated endorsement either. Not unless the upcoming Shadow of the Erdtree expansion can do something more visually interesting with its shadows, anyway.