Endless Legend Expansion Invading Your Shores Today
Way hay up she rises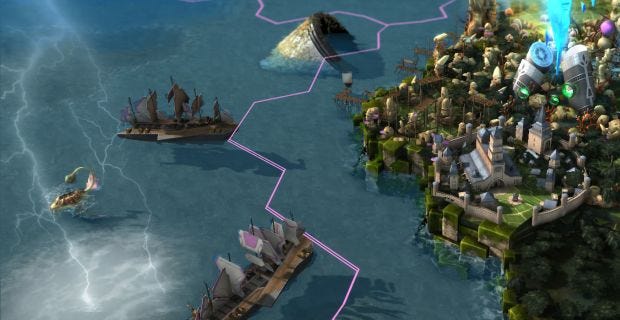 "A sailor went to sea sea sea," wrote Samuel Taylor Coleridge. "To see what he could see see see. / But all that he could see see see / was the bottom of the deep blue sea sea sea." Endless Legend [official site] is hoping to harness some of that terrifying tone in its latest expansion, Tempest, which is adding naval battles, a new watery faction and giant aquatic monsters. It has already washed up on the DLC shores today and if you come with me, you can see a short trailer for it all.
Terrifying. The main draw of the expansion is the new Morgawr faction, which is super good at murdering on the high seas. They are "a twisted and possessed people that seem to be symbiotic creations of sea life and other, unimaginable species", according to the game. And if you run into them on the waves you'll have to fight, because now there are naval battles too. There's also sea fortresses dotted about, guarded by a minor race called the Fomorians, who you will remember from your classes in ancient Irish mythology as one of the 9 billion races to have invaded Ireland (see the Book of Invasions).
There are other bits of flotsam and jetsam in this expansion. Sea monsters like the "hungering maw" can show up and make your life difficult, and the weather at sea can change from calm to cloudy to stormy, making progress across the waves even more hazardous. Altogether there are 50 new quests and 60 new special items to nab.
Endless Legend was one of our best strategy games on PC (number 8, yo) but it was also our best game of 2014 full stop. So I daresay you might get a kick out of all these watery antics. And if you think so, it's on Steam for £9.99 (but a little bit cheaper today). Enjoy sailing, that is if you aren't busy wandering around in the early access of Endless Space 2.