Crossbrover: The Expendabros Out Now For Free
Wait, advergames can be good?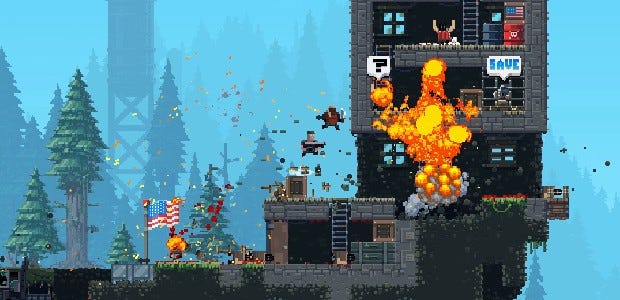 Look, I don't know how to say this: someone has made an advergame for a movie and it feels... not awful? Not something made to fund other games its developers actually care about? Perhaps its creators' wildest dreams come true? I don't know what to make of this topsy-turvy world any more.
See, Broforce is a game all about nostalgia for action movie heroes of the '80s and '90s, and The Expendables is a movie series all about nostalgia for action movie heroes of the '80s and '90s. And now they're combined. Developers Free Lives yesterday released The Expendabros, a free short standalone version of Broforce starring The Expendables 3 characters. They must be dead chuffed.
The Expendabros is, y'know, like Broforce and like The Expendables--nostalgic idealised versions of creaky old action stars run, jump, and shoot through destructible levels filled with explosives. Men die and you remember The Good Old Days. The fact that Expendabros characters are licensed makes no real difference--Broforce already offered several takes on Expendables stars Sly Stallone (Rambro and Bro Dredd) and Arnie (Brominator, Brommando, and Bronan the Brobarian).
Free Lives founder Evan Greenwood explained the crossover (crossbrover? I don't know):
"We weren't paid to make the Expendabros. Lionsgate approached us and asked if we'd like to make a Broforce tie in for Expendables 3, with actual licensed Expendables characters, and we couldn't say 'no'. It is a bit of a cross promotional thing, and I have no idea of whether it'll lead to more people playing Broforce, but mostly it was just a really cool thing for us to try do."
The Expendabros has ten missions with seven "bros" from the movie (which arrives in cinemas in a week or two). It's got local co-op for up to four players, though I'm sure that's a typo and they actually mean "bro-op". You could also consider it a newer demo for Broforce, as its own is a relatively old prototype ("brototype").
It's a free download on Steam but will only be available until December 31, presumably because licensing. Here, look at these bros: