Far Cry 5's final, zombie-themed DLC lurches into view on August 28th
Third time's the charm?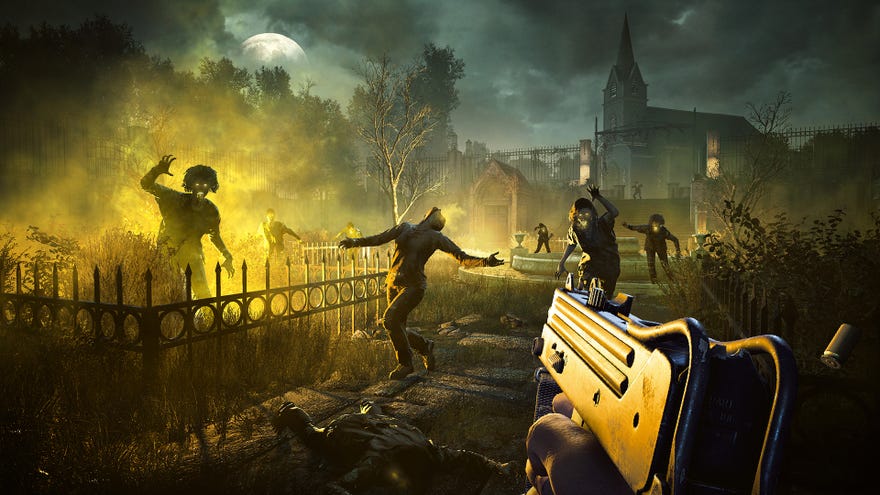 While Far Cry 5 was a solid open-world shooter (if you could switch your brain off whenever it tried delivering another wave of plot), Ubisoft just haven't been sticking the landing on the DLC. The first two thirds of the season pass - a Vietnam war themed expansion, and a mission into pulp sci-fi territory on Mars - just haven't lived up to their concept, especially in the latter case. Perhaps Far Cry 5's third and final expansion, the tongue-in-cheek Dead Living Zombies, might be the one to own. Take a brief peek at it in the release date trailer below. It's rising on August 28th.
Rather than be another semi-open-world adventure, Dead Living Zombies has you trying your hand at action movie stunt-acting in seven self-contained scenes. Hopefully this means well-choreographed combat scenarios and detailed battlefields, but if nothing else, the trailer below does confirm the return of the titular atomic mega-lizards from Far Cry: Blood Dragon (which I quite liked). It seems that you're fighting a bit more than the undead in this expansion, as the plot of the movie goes increasingly off the rails.
As with the previous DLC, the scenery bits from Dead Living Zombies will be usable in the Arcade level editor. Support for the new pieces was added just over a week ago, as you can see in the patch notes here. So far, players have been using the martian scenery to create some impressive new maps (at least in terms of visuals) although it seems that most of Dead Living Zombies new props are designed to fit in naturally with the base Far Cry 5 stuff.
Far Cry 5: Dead Living Zombies will be available on August 28th, and will most likely cost around £8.59/€10/$10, assuming the same pricing as the Lost On Mars DLC. It will also be available as part of the season pass and gold edition of the game.