First Day Of The Tentacle Remastered Screenshots Appear - Compare And Contrast
The New Day (Of The Tentacle)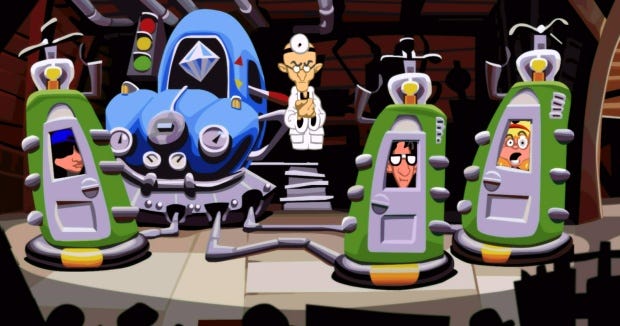 Polygon has just posted the first screenshots of Double Fine's remake of Day Of The Tentacle, a project announced almost a year ago, and now apparently playable at Indiecade. The shots show the remastering is clearly going to be very faithful to the original game - fears of attempts at 3D or similar can be put aside - although give no indication at this point if the verb interface is to be maintained. Indiecade visitors will be able to tell us soon.
However, to my eye, something doesn't look quite right.
I'm going to be precious about DOTT. It's one of my favourite games, one I love to revisit, and one I've long argued stands up to the passing of time thanks to its utterly wonderful cartoon pixel graphics. Really, the only thing I think DOTT desperately needs is to actually be on sale anywhere at all.
However, making a new version doesn't make the old version exist any less, so those who complain about such things as if they're acts of aggression against a loved one are silly. Let's not be silly. But I'm perhaps a little perturbed by the artistic decisions being made for a new version here, in having DOTT look like a Flash cartoon. It's too flat, too smooth... Oh, I don't know, maybe I'm being silly, fussy, precious. Some 2560x1440 beautiful pixel art is probably what I'd most wanted to see. But it's impossible to argue that the new shots aren't incredibly faithful to the originals.
You can see the full-size shots over at Polygon. Meanwhile, you can compare and contrast some of the new shots with the originals below. I expect you have an opinion.