Fixed Levitating Zombies: Dead Island Patch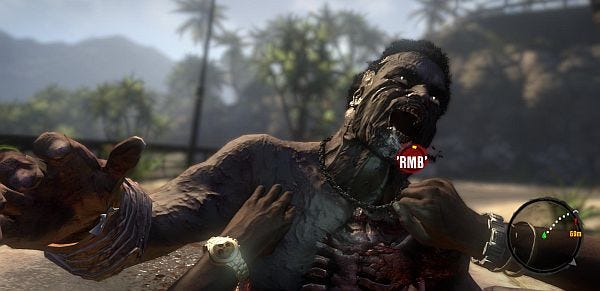 Dead Island's PC launch was a bit of a messy business, which is why we here at Fortress Shotgun gave a solemn, grim-jawed nod upon hearing that devs Techland had decided to prioritise patching it over squeaking out downloadable content. The latter was delayed in favour of the former, and today we get a peek at which of their freeform zombie game's guts they've been performing surgery on.
A few of the major fuel sources for the angry tank have been successfully identified and removed, including but not limited to: weapon duping, offline mode, savegame borking, disabling unwanted voice chat and, rather sadly, floating zombie corpses (well, re-corpses). I'll miss you, lads.

Steam should auto-update your game right about now, and here are the full patch notes. Is your personal bugbear listed?
-Fixed running game on Steam in offline mode

-Fixed damaged saves when a player has more than 190 items in inventory (weapon or stacked items, counting in items from Jin's storage and player inventory). Corrupted savegames will be recovered when possible.

-Fixed problems with unlocking "There and back again" with progress 72/72

-Fixed duplicating weapons: When throwing and dropping at one time; When dropping items from inventory

-Optimized scanning for friends-process, to decrease lobby server workload

-Fixed random freezes when playing 4 players coop no longer appear

-Fixed issues when using medkits from inventory menu

-Stacking items issue solved: miscellaneous items to 9999, medkits and alcohol to 30 instead of 10.

-Added the option to disable voice chat in game.

-Limited Jin's storage capacity to 150

-Fixed: disappearing items when there is no place in inventory and a player tries to get an item from Jin's storage

-Improved trading: items will be removed from the smallest stack instead of a random one.

-Fixed problems with corrupted profiles, which caused the game to start with black screen and freeze.

->>>>>>>> Fixed levitating zombies after killing < <<<<<<< -Fixed not being able to show quest details in quest menu using Xbox controller
More to come, hopefully. I still haven't played this properly yet - think I'll wait it out for patches while the impending November glut of games happens. Then I can have myself a very gory, sweary little Christmastime.