Flirt from the safety of your giant robot cockpit in Heaven Will Be Mine
Like Gundam Wing, but with girls.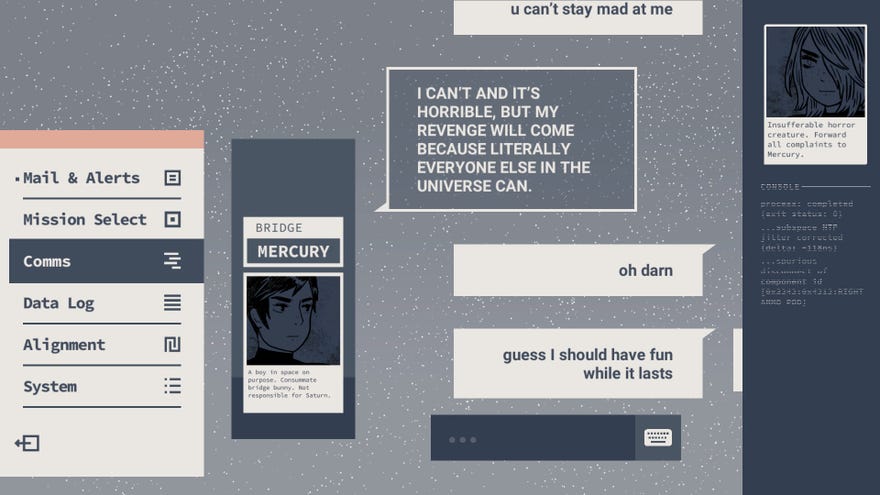 We all have our defences at least a little bit raised when meeting someone new. In Heaven Will Be Mine, a new visual novel released late last week, those defences are just a little bit more literal, and far larger. I guess it's easier to flirt confidently when you've got energy shields and a giant humanoid metal hull capable of shrugging off meteorites. Set in a bizarre anime-inspired alternate 1980s, it's the story of three ace mecha pilots on a mission, although there's every chance they'll drop it all to get their smooch on.
While Heaven Will Be Mine's key selling point is it's giant mecha flirt-fighting, it sounds interesting as an offbeat piece of sci-fi in general. Everything has gone a bit wrong in the far-flung future of 1981, and the world of sci-fi adventure out in the stars hasn't materialised. Most are packing up and heading back to Earth to live normal, gravity-bound lives, but some cling to impossible-seeming dreams. The story follows three women over the course of an eight-day conflict, and the player's choices determine whether the story ends up more Kiss Kiss or Bang Bang.
The whole thing looks and sounds very stylish. It's funny just how far some snazzy diegetic interface design can draw me into an experience like this, especially if backed up with an appropriately moody soundtrack and some fitting bleeps and bloops. While we've not given it the coverage it deserved, writer Aevee Bee and artist Mia Schwartz's previous visual novel release - We Know The Devil - was great, deeply atmospheric and heavily allegorical stuff. Give it a look if you haven't - it was reason enough to put Heaven Will Be Mine on my radar.
Heaven Will Be Mine is out now on Itch and Steam for £10.24/€11.24/$13.49. I'm not sure if anyone's reviewing this one yet, but Alice (Prime) went a little bit starry-eyed when she saw this had launched.