Fortnite Ice Puck 150m: slide an Ice Puck over 150m in a single throw, how to unlock the Ice Puck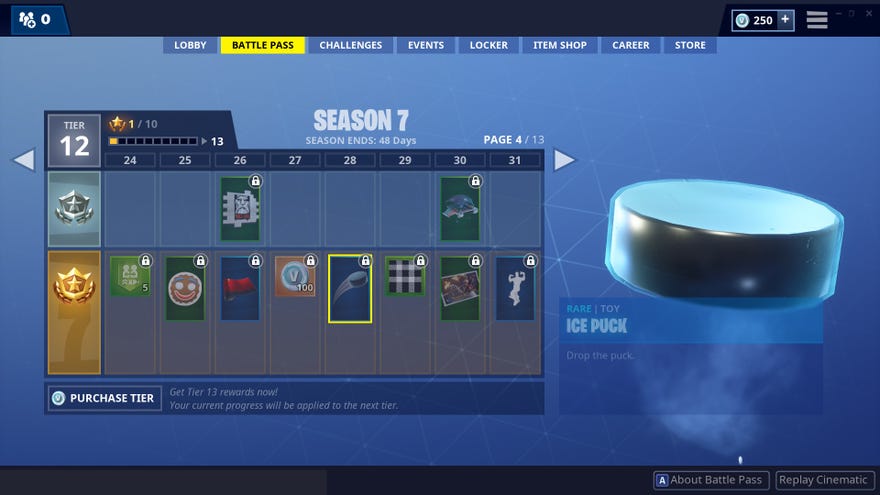 One of the more bizarre challenges this season in Fortnite requires you to first unlock an emote. The Ice Puck isn't unlocked until Battle Pass level 28, so there's a bit of work to do to unlock it. Once you do, you'll then need to throw throwing an Ice Puck over a certain distance. This guide will go over just what you need to do for the Ice Puck challenge, and where the best place is to throw it to get the right distance.
Fortnite Ice Puck 150m challenge guide
Please note that this page is for a challenge that is no longer active in Fortnite. For a full list of currently active challenges, please go to our Fortnite week 6 challenges page.
With the game being the global sensation that it is, there's a lot to learn about not only getting that all-important "Victory Royale", but also the changes to the map as the seasons progress, and the challenges you can seek to complete. Head over to our Fortnite guide hub for every single thing you need to get started.

Slide an Ice Puck over 150m in a single throw
It's a good job this is a Battle Pass challenge, as this one requires some preparation and many hours of play before you can even attempt it. Tier 28 in this season's Battle Pass will unlock the Ice Puck emote. You can check out all of the weekly challenges in our Fortnite week 6 challenges guide hub. This will also give you plenty of links for the more complicated challenges, as well as tips for those that require a certain kill count.
Once it's unlocked, you will then need to ensure that you have it equipped. Head into the Inventory menu and equip it, before heading into a game. I would suggest that nobody bothers people in the area I'm about to suggest you throw the Ice Puck, if you enter into a LTM with respawns, so make sure you go into a team based LTM that's available.
You'll then need to slide it 150 metres. The screenshot above shows the exact location I threw it to reach 150m, which is by the frozen lake north of Polar Peak. There's a lip to the south of the location which, when thrown, the Ice Puck will hurtle down the slope and across the lake. It doesn't seem to matter if it rebounds off an obstacle, but once it exits your view, it registers how far it has travelled. This one may take a few goes, but at the very least the area isn't heavily populated, so you should be left to throw ice pucks in peace.
This concludes the Ice Puck guide, but there's plenty more challenges to complete in Season 7. The more difficult challenge from Week 6 asked you to find some gnomes frozen in ice. They can be hard to spot, so do check out our Chilly Gnome locations guide for the location for each of the gnomes.